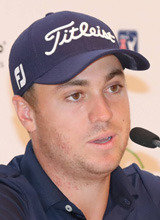 There are nine bridges at the Nine Bridges Golf Course located in the city of Seogwipo, Jeju Island where the CJ Cup of the U.S. Professional Golf Association (PGA) Tour will take place from Thursday.
Players would be thrilled to dream about making a champion putt after crossing a bridge at Hole 18. However, Justin Thomas, one of the favorite players of the tour, has no intention of counting the chickens before they are hatched. After arriving on the Korean resort island on Monday, he meticulously checked the course and honed his shots through exercises and Pro-Am rounds. Despite having competed in nine championships over the past 11 weeks, he took no break.
He told a news conference on Wednesday that he felt as if he was in an unknown world because he had no one to turn for advice as none of his colleagues had played on Jeju before. The CJ Cup is the first PGA Tour championship to be held in Korea. Although Thomas won the PGA Tour Player of the Year title and top prize money last season, he finds Jeju's strong winds and mountainous terrain burdensome. Predicting that winds will likely be a key factor, he forecast that the winning score will likely be between 16 and 20 under par without winds and 8 and 12 under par with plenty of winds.
Meanwhile, Korean professional golfer Kim Si-woo will have rounds with Australian golfers Jason Day and Adam Scott.
Day, who is ranked ninth in the world, expressed his expectations for a good game, praising Kim's swings and his winning the Players Championship.
Yun-Cheol Jeong trigger@donga.com