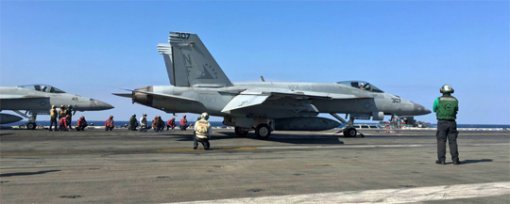 The South Korean presidential office of Cheong Wa Dae announced on Tuesday that U.S. President Donald Trump will make a two-day visit to South Korea on Nov. 7. President Trump will become the first U.S. leader to visit South Korea in 25 years. Amidst heightened tensions within the Korean Peninsula due to North Korea's continuous provocations, Trump's visit is the highest respect paid to a foreign leader in order to parade the soundness of S. Korea–U.S. alliance. However, there are mixed views towards whether this state visit will be able to reap diplomatic achievements that are suitable for a state visit in 25 years. In a situation where President Trump is emphasizing military options against the North, the focus is on whether South Korean President Moon Jae-in will be able to persuade President Trump to solve the North Korean issue in a peaceful manner.
"President Donald Trump and First Lady Melania Trump will arrive in the early morning on Nov. 7 and leave in the afternoon on Nov. 8," Cheong Wa Dae spokesman Park Soo-hyun confirmed the schedule, which is the result of close discussion with the United States. Mr. Trump will stop by Hawaii and Japan after his depart Washington on Nov. 3, before visiting South Korea and China on Nov. 7 and Nov. 8, respectively.
Cheong Wad Dae believes that President Donald Trump's state visit will serve as an opportunity to underscore S. Korea–U.S. alliance. The state visit, which is limited to one for each foreign leader during the five-year term of a South Korean president, provides not only an official welcome ceremony and concert but also the protection of the Presidential Security Service.
In particular, this state visit will also be accompanied by Ivanka Trump, President Trump's eldest daughter and advisor to the White House, and her husband Jared Kushner. It has been known that Ivanka and her husband, who are known to be the actual closest advisors to President Trump, will participate in various official schedules as President Trump's official entourage.
The highlight of President Trump's state visit is the South Korea-U.S. Summit, which is to be held on Nov. 7. This summit, the 3rd of its kind since his inauguration, is likely to focus on North Korea's nuclear issues. "(During his visit to South Korea) President Trump will call on the international community to join together in maximizing pressure on North Korea," the White House said while announcing President Trump's plan to visit South Korea.
Some government officials expressed concern over President Trump's decision to visit Japan and meet the family members of those kidnapped to North Korea. It seems that once President Trump starts to raise North Korea's human rights issues, it will be more difficult to transfer into a dialogue mode. "North Korea problem is becoming more complicated and its resistance may even grow stronger when issues concerning Japanese kidnapped to North Korea are brought up," said a diplomatic source.
weappon@donga.com · sya@donga.com