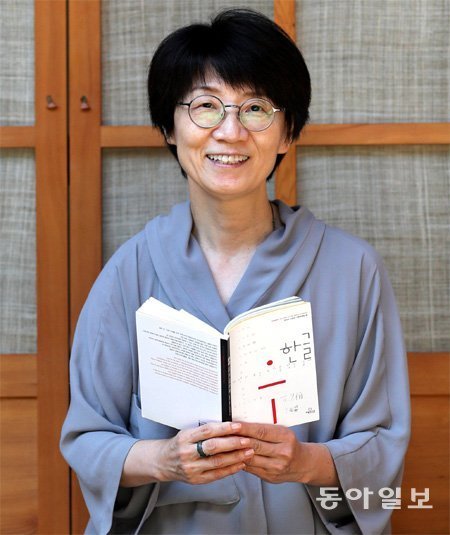 Professor Yu Eun-sil (age 60) at Seoul Asan Medical Center's Department of Pathology and her colleagues published a guidebook for Hangeul called "Hangeul; Characters that Embody the Sound of Nature" to commemorate the 571st anniversary of the Hangeul Day, which falls on Monday. This book is written in a question and answer format.
The book summarizes the reason why King Sejong the Great created the Hunminjeongeum, the ancient Korean alphabet, as well as the principle of yin-yan (sky, land, human) and the five elements of the universe (water, tree, fire, dirt, iron), which comprises the consonants and vowels. The left part of the book is written in Korean and the right part of the book is the translated version in foreign languages such as English, Chinese, French and Japanese. "I wanted help foreigners who are interested in Hangeul read the book as well," said Professor Yu.
After Professor Yu graduated Seoul National University's medical school in 1982, she became a pathology professor at Seoul Asan Medical Center seven years later. Nonetheless, her enthusiasm towards humanities never died. When she participated in the International Book Fair held in Frankfurt, Germany in 2005, she was deeply impressed at how foreigners were interested in the principle of Hangeul. That is what made Professor Yu become a "Hangeul preacher."
Pathology, which is Professor Yu's field of expertise, studies the principle of illness by observing cells and genes. She says it is similar to identifying the principle behind Hunminjeongeum. Hangeul is more scientific than any other language. It combines the principle of "hieroglyphics," which mimics the vocal apparatus, and "additional lines," which is adding lines to more complex sounds, with King Sejong's philosophy of reflecting the yin-yan and the five elements of the universe in Hangeul. Professor Yu started studying every single sound of Korean in the way she studies the principle of an illness.
Starting from a few years, Professor Yu has been teaching the principle of the invention of Hangeul to foreign professors and students at the medical center she works at whenever she has a chance. "I plan on translating the guidebook in other foreign languages such as German and Spanish to let more people appreciate the beauty of Hangeul," said she.