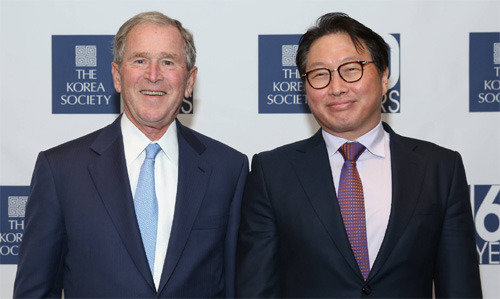 Chey Tae-won, Chairman of SK Group, said the company will "continue to keep a close eye on how the situation develops," referring to the investment of SK Hynix in Toshiba's memory chip unit.
At the event held on Thursday in New York celebrating the 60th anniversary of the establishment of Korea Society, a nonprofit organization promoting cooperation between the people of Korea and the United States, the top decision-maker of Korea's energy and telecom conglomerate said, "This is not an acquisition but investment, and as the process is still ongoing, we are planning to complete it step by step."
On the same day, Toshiba officially announced that it signed a deal to sell its memory business to a consortium led by U.S. private equity firm Bain Capital, which includes the Korean chipmaker. The total value of the deal stands at two trillion yen (around 20.4 trillion won) while SK Hynix invests 395 billion yen (around 4.3 trillion won).
"We should first be given the approval of the governments and resolve all legal disputes before commercially executing the contract," said Chey, indicating that the company needs approval from the authorities of rival countries such as Japan, the United States and China. His remark also points to a request filed by Western Digital Corp. for arbitration with the International Court of Arbitration (ICA) under the International Chamber of Commerce (ICC) to suspend its Japanese partner from selling the memory unit.
As for the Korean company's voting right and its limited access to the confidential information concerning Toshiba's memory for ten years, Chey said, "We believe that is the level of cooperation we can achieve at the present moment."
Chairman Chey, along with former U.S. President George W. Bush, received Korea Society's James A. Van Fleet Award on Thursday in recognition of his contribution to the development of Korea-U.S. industrial cooperation. James A. Van Fleet Award, named after U.S. Gen. James A. Van Fleet, the Army commander during the Korean War, was designed by Korea Society in 1995.
In fact, both their fathers had received the same award. Chey Jong-hyun, Chey's father and the group's founder, and former U.S. President George H.W. Bush are both former honorees. This marks the first time for a father and a son to be given the award.
Ji-Hyun Kim jhk85@donga.com