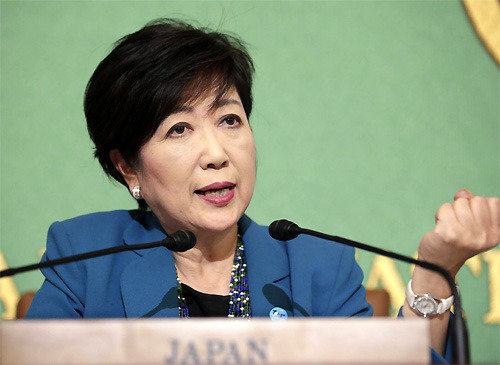 Tokyo Governor Yuriko Koike is fast emerging as a powerful candidate to be Japan's next prime minister. Many experts say she will step down as governor and run for parliament in order to make a bid to become prime minister. On Thursday, Japanese Prime Minister Shinzo Abe dissolved the House of Representatives and set October 22 as the day of the election, with a showdown between the incumbent prime minister and Governor Koike entering a countdown.
With the Party of Hope, a new party founded by the female governor on Monday, driving coalition of opposition parties, the possibility of Governor Koike running for the highest office of Japanese politics is also growing. The Mainichi, a Japanese daily, reported that an increasing number of pundits are expecting her to step down as governor before Oct. 10 and run in a snap election for parliament. The Japanese constitution stipulates that one needs to be elected as a member of parliament in order to become prime minister.
At a press conference held at the Japanese reporters' club on Thursday, however, Governor Koike dismissed such forecast, stating that she would "focus on handling city affairs." A day earlier, she appeared on a TV show and said, "The election will determine which party will hold power. (Our) goal is to take power." The Tokyo Shimbun forecasted that it would be almost certain that the party will raise the voice that Governor Koike must run in the election," pointing out the sentiment that the party leader must become prime minister to prove its capacity to rule.
It is expected that Governor Koike will monitor her ratings and other indicators before making a final decision to run for prime minister when her coalition with opposition parties stands a better chance to win. Some experts say that Koike is referring to the case of Morihiro Hosokawa's cabinet, which ended the Liberal Democratic Party's prolonged ruling in 1993. At that time, the Japan New Party, in which Governor Keiko also got involved, united seven non-liberal democrats and non-communist parties and put a halt to the LDP's 38 years of ruling.
Won-Jae Jang peacechaos@donga.com