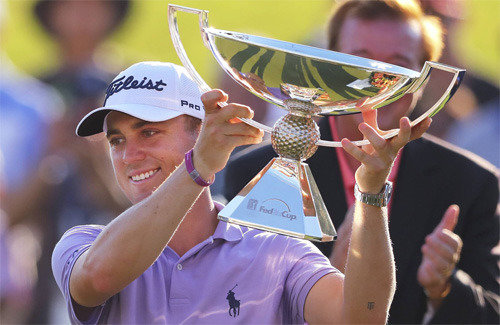 Golfers born in 1993 stood out as the golden generation in the PGA tour whose season wrapped up on Sunday (local time). Justin Thomas and Jordan Spieth, both 24, rose as prominent players, and Xander Schauffele, also 24, made a grand finale.
The three golfers began their career around 2000 when Tiger Woods was in his heyday. The PGA tour prize money and golf industry were rapidly growing at that time, and they dreamed of becoming a golfer just like Woods.
Grasping five victories during this season, Thomas recorded most wins of the season, and raked in 10 million dollar bonus. He is garnering much attention in Korea as well, as he will be competing in the CJ Cup to be held in Jeju next month. Spieth has three titles to his name this year, including The Open, and ranked first in average strokes.
Thomas and Spieth are well known as best friends who have trained together since their rookie days. Thomas said that Spieth's three major championship victories greatly inspired him.
Schauffele won the tour championship with a one-meter birdie putt on No.18 where he shared the lead with Thomas, and locked up Rookie of the Year honors by winning twice in the PGA tour debut season.
"The greatness of golf is how well you handle pressure," golf commentator Johnny Miller said. "Very, very few guys are really good closers."
Daniel Berger is another rising star of the next generation born in 1993.
Among Korean players, Kim Si-woo, who won the Players Championship, scored the highest, ranking 54th in the FedEx Cup and 36th in payout with 2,681,777 dollars.
Jong-Seok Kim kjs0123@donga.com