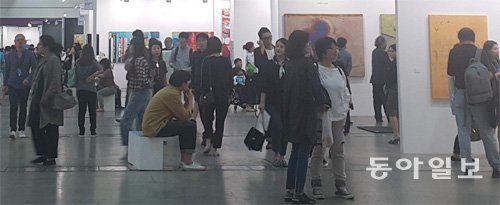 "Some 167 galleries from 13 countries have participated for five days, attracting 54,000 spectators and about 27 billion won of turnovers for the artworks."
This is the report card for the Korea International Art Fair 2017, Korea's largest art market, held at COEX, in southern Seoul, from Wednesday to Sunday. The 16th annual art fair has recorded the highest grossing results in its history, following the previous year's profit of 23.5 billion won.
This year's art fair has been praised for making various exhibition plans to be possible, by making its exhibition walls taller, from the previous height of 3 meters to 3.6 meters. Furthermore, it added the new "Highlights" section, which carefully selected 10 galleries in Korea and overseas, exhibiting the new artworks from artists who are worthy of notice and the artworks with high value in art history.
At the booth of Standing Pine Gallery from Japan in the "Highlights" section, the visiting gallery during the exhibition, the 3-dimensional installation artwork by Kenji Sugiyama was quite popular. The artwork is created by putting miniature figures of people and furniture into a box, and adding reflector effect with mirrors. Lie Sang-bong, a Korean fashion designer, was also interested in this artwork, saying that he will apply it to the design of his shop. At the booth for Choi& Lager Gallery, the artwork titled "Back into the Body" by Matthew Stone, an English artist in his 30s, attracted attention from the spectators. It was created by taking photography of paintings on a sheet of glass, and editing it with other digital images and imprinting it on a canvas.
Artworks by Korean singer Naul (Yoo Naul) were also exhibited through KAZE Gallery of Japan. The artwork titled "Youth" is a digital collage of various materials, including photos of children. Galerie Maria Lund of France exhibited Lee Jin-woo's artworks, which are created by scratching charcoal and traditional Korean paper with metal brush.
The Korea International Art Fair 2017 also provided various special exhibitions and lectures. Art critic Yoon Jin-seob planned the 50th Anniversary of Korea's Performance Art Material Exhibition. He also performed, dressing up as a woman holding a red "fake" Chanel purse and walking around the exhibition hall. "I wanted to criticize fake products, plastic surgery and materialism," Yoon said.
This year's art fair also made hot issues with the "big players" of the international art market, such as Jean Boghossian, the founder and president of Boghossian Foundation in Belgium, and Abdellah Karroum, director of the Mathaf: Arab Museum of Modern Art in Doha, Qatar. In addition, many famous galleries such as Galerie Perrotin of France and 10 Chancery Lane of Hong Kong also participated in the art fair in Korea.
"The Korea International Art Fair 2017 has enhanced the spectators' movements and the quality of lectures," said Lee Hwa-ik, the president of Galleries Association of Korea. "We will supplement the networking between overseas and domestic collectors so that we can make a leap to the greatest level of international art fair."
Sun-Mi Kim kimsunmi@donga.com