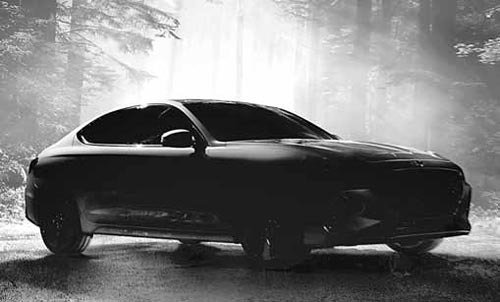 Hyundai Motor has recently showcased its third sedan "G70" for its premium Genesis line-up. As a luxury sedan brand, Hyundai G70 is expected to heighten the status of its luxury brand. The urgency came as Hyundai Motor desperately needs to go beyond a "good for price brand" and transform itself to overcome the barriers that it faces home and abroad.
The C-segment luxury sedan G70 comes in a price range between 37.5 million to 52.3 million won, which is lower than its predecessors G90 (EQ900) and G80. Major competitors include the three major German automakers popular among young consumers; Mercedes-Benz C Class, BMW 3 series and Audi A4.
Hyundai Motor has unveiled its latest G70 at Hyundai Motor Studio in southern Seoul on Friday. Genesis PM Center chief Hwang Jeong-ryeol showed confidence, saying, "The G70 will unleash a strong presence in the Korean C-segment sedan market, which has been dominated by German brands."
Though born as a sedan, Hyundai Genesis G70 shows a more emphasis on dynamic design compared to its previous models. While low in chassis, tires and wheels look aggressive with their big sizes. A slightly lifted trunk gives a taste of a sports car as well. Drivers will be awed by the luxurious feeling with leather finishes on the cockpit. The Genesis G70 will be released in 10 colors, including Blazing Red, Graceful Grey, and Lapith Blue. The new Genesis will be available on the market from September 15.
Dong-Il Seo dong@donga.com