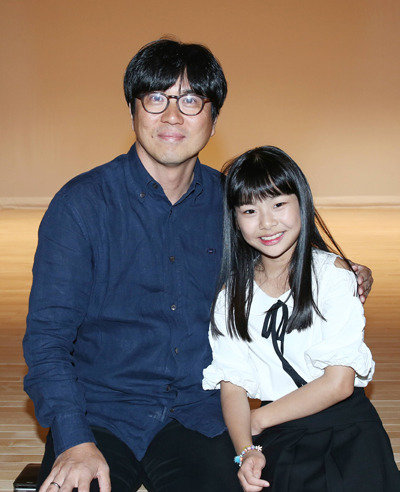 Also known as the husband of famous actress Tang Wei, film director Kim Tae-yong will be directing a new type of original play, blending the Korean traditional music gugak and film. At a production presentation of "Kkokdu" held at the National Gugak Center in Seoul on Wednesday, Kim said, "He is quite thrilled to create a new artistic experience which will transcend the borders of film, dancing and Korean traditional music (gukak)."
The gukak play "Kkokdu," which will be performed from Oct. 4 to Oct. 22 tells the story of children warped to a world of fantasy while wondering in the market to find the shoes for the granny suffering from dementia. "Kkokdu" is a wooden doll sculptured as an ornament on a bier, and ushers the deceased to afterlife. To rejuvenate its brand, the National Gugak Center chose Kim as the main director, and casted child actress Kim Soo-an who starred in "The Battleship Island" and "Train to Busan," along with actor Cho Hee-bong.
The crew shot a 30-minute film at the Jindo Island located in South Jeolla Province last summer. "After seeing kkokdu for the first time at the Museum of Kkokdu in Seoul, I have been longing to shoot the ornament that embraces the souls of the deceased," said Kim. "During our bumpy and lonely journey called life, kkokdu serves as the Sherpa, guard and butler, or even makes us laugh by turning into a 'clown.' And this was maybe the roles that gugak has served for Koreans for a long time."
In recent years, Kim has been involved in novel experiments, which blended gugak with film, such as "Film Pansori Chunhyangjeon (2016)" shot at Muju in North Jeolla Province, and "Reggae but Film, Heungbu (2017)," which interpreted the Korean folk tale into reggae beats.
The music of the upcoming performance will be directed by Bang Joon-seok who is famous for original soundtracks of "Joint Security Area," "Radio Star" and "The Battleship Island." "I always felt gugak as a very unfamiliar genre, but now I am enjoying the current project, as I often discover those tunes and movements, which has lived on in our daily lives until now," Bang said.
Seung-Hoon Cheon raphy@donga.com