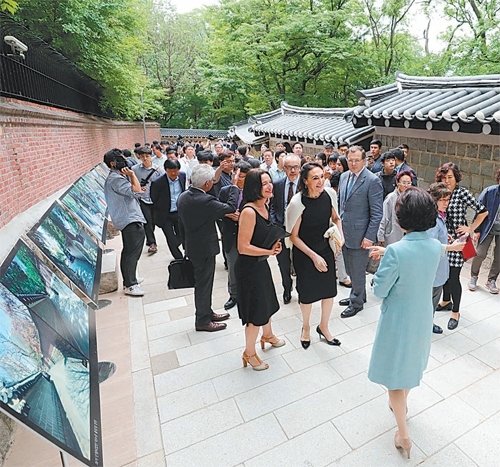 Once blocked by steel door, the Deoksu Palace stonewall walkway is partially open to the public in nearly six decades.
The Seoul city government officially opened approximately a 100-meter walkway from the back gate to the embassy residential area, which was formerly occupied by the British Embassy in Korea. On the 170-meter road between the main and back gates, the walkway will end at the end. In late Joseon Dynasty, the road was mainly used to hold ritual ceremonies when king Gojong and Sunjong held their thrones. While the section is owned by Seoul City, the area has been used by the British Embassy under the permission for occupation and use since 1959.
The suggestion to open all sections was in fact already made by Seoul to the embassy in October 2014 under the co-project called "Deoksu Palace Stonewall Walkway Restoration Project." However, the British Embassy declined due to security issues. And in October last year, the two sides agreed through additional discussions to partially open a 100-meter section.
In coordination with the British Embassy in Seoul and the Cultural Heritage Administration, Seoul City has repaired pedestrian passages and walls before the official opening. A new back door directly connected to the Deoksu Palace has also been installed.
The remaining 70 meters between the main gate and the embassy residential area was purchased by the embassy in 1883, and is still left unopen to the public. Seoul City will continue to negotiate terms on opening the section with the embassy.
Jeong-Soo Hong hong@donga.com