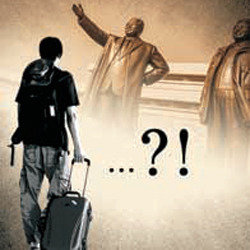 The infamous dictator Joseph Stalin once mocked tourists and left-leaning groups in the West who were supporting the Soviet Union as "useful idiots," borrowing a term originally invented by Vladimir Lenin. He chuckled over his idiots in the West who unilaterally believed the Soviet Union's propaganda while he was actually engaging in his bloody purges.
North Korea has been highly energetic to attract foreign tourists as these "useful idiots" to the North is a good source of fortune, bringing about 40 million U.S. dollars to the North's tourism industry every year. On the other hand, the United Nations has declared that the North is violating human rights at an unprecedented level in today's world. This reporter wonders if foreign tourists coming to the North are aware of the fact that the money they spend in North Korea goes to the isolated regime that develops nuclear weapons to sustain its dictatorship. Besides ethical issues, North Korea is still a dangerous destination for tourism. In 2008, a South Korean tourist was shot at the Mount Kumgang. Furthermore, U.S. college student Otto Warmbier, who was returned this year, lost his life.
Russia gave an approval for a set-up of North Korean travel agency "NKOREAN" in Moscow on Thursday, in contrast to a full-scale travel ban to the North, taking effect from September 1, by the U.S. government. NKOREA's 15-day tour product costs about 2,000 dollars. NKOREAN went online and promoted its products, claiming "a trip to North Korea is safer than a walk through London in the evening," and this has created quite a buzz. The travel agency has been blamed for using tragic and repeated terror incidents in England this year for its marketing. According to the Time, about 100,000 tourists visited North Korea in 2014. North's bold ambition is to attract 2 million tourists by 2020.
As Nazi's Auschwitz concentration camp in Germany cannot be a tourist attraction to enjoy, the same is for the North. This is why Suki Kim, South Korean-American author of the book titled "Without You, There Is No Us," referred to tourism in North Korea, where 25 million citizens are held like prisoners in a big concentration camp, as "torture porn." An official at the North Korean embassy who attended the press conference for NKorean highlighted that security is guaranteed, seeming to leave ridicule only. One thing to remember before anyone chooses the North as its destination is "curiosity killed the cat."
mskoh119@donga.com