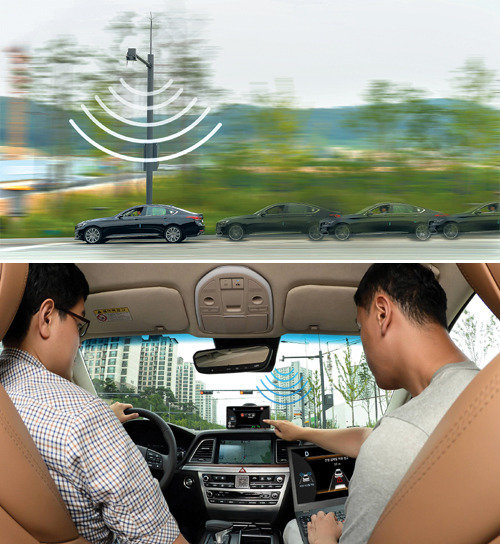 Hyundai Motor has revealed its future blueprint of "Car to Life" at the Seoul Motor Show. Car to Life means that cars and people's lives are closely linked through wireless telecommunications. Hyundai Motor Vice Chairman Yang Woong-chul dubbed the future car as "hyper-connected intellectual car" at the motor show on Tuesday.
Hyundai Motor and Kia Motors have launched earnestly research for realizing hyper-connected intellectual car. According to both car makers, they will start testing the availability of Internet of Things on the roads in Hwaseong, Gyeonggi Province.
Through the system called V2X (Vehicle To Everything), information is shared between cars as well as between traffic infrastructure and cars. Homes and restaurants are also expected to share information going forward. A car equipped with V2X is called connected car. V2X is a prerequisite to make a completely self-driving car. The era of self-driving can be opened only when cars identify various situations on the road and respond to them.
Though being latecomers, Hyundai and Kia are quickly upgrading their self-driving technologies. "Since we have a high-level car control technology, we are confident that we will develop self-driving cars that matches the world level by collaborating with IT companies," said Kwon Hyong-keun, director of intellectual safety research team at Hyundai Automotive Group.
On criticism that Hyundai and Kia are trying to develop self-driving cars on their own, Kwon said the Hyundai Automotive Group is actively promoting alliances with other companies. "We have been negotiating with global IT companies including Cisco and Mobile Eye in the self-driving sector," Hyundai researchers said.
Woo-Shin Han hanwshin@donga.com