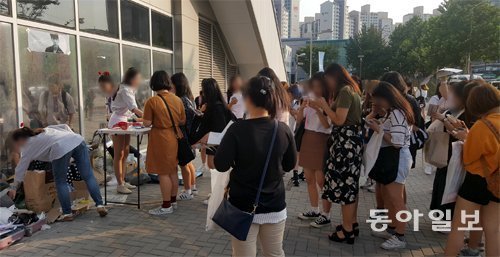 "Loitering" is the slang often used among idol k-pop fans wandering around the concert halls on the day their celebrities hold events. Fans who failed to reserve tickets due to fierce competition or cannot afford those expensive seats are left with no choice but to "loiter." These fans wander around the venue hours before the concert begins, buying celebrity goods and taking pictures. There are even some who try to watch their idols rehearse.
Despite their disappointments on the concert days, they visit the venues for their main purpose of free "shared" goods offered by several other fans. "I buy limited edition goods exclusively sold at concerts, but also receive other cute goods made by fans while loitering," said 16-year-old Seo Yoon-jin who was interviewed at the Seoul World Cup Stadium, where the "SM Town Live World Tour" took place on July 8.
Still, these fans also have to abide by strict rules. They can receive complimentary goods only when they can prove they are the actual fans of such singers. They prove their loyalties by showing subscriptions to official fan clubs, texts rooting for their idols, or screenshots showing that they have frequently listened to their singers' songs at music streaming sites. Indeed, the listened record is a clear evidence of their "loyalty," as they have "streamed" repeatedly to push up their idols' songs on the charts. Stamps are also put on the back of their hands to prevent double offerings of free goods to the same person. There are even fans who reorganized the waiting line.
Then why do these fans give out their costly and handcrafted freebies to loitering fans? "It's because of the sense of belonging, rooting for the same singer." said a 22-year-old fan who distributed 500 pages of "Lee Dae-hui" slogans after designing and promoting for the past three weeks. "These fans thank me or give snacks, and say 'thanks to your efforts, our singers will gain more awareness. Those exchanges and bonding really gives me the pleasure."
Min Kim kimmin@donga.com