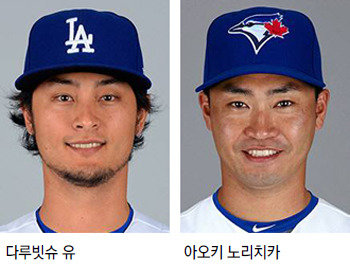 "It is an honor to be wanted by a team with most wins," said Japanese baseball player Yu Darvish (30). Japanese pitcher Yu Darvish looked more excited than disappointed after he was traded to the Los Angeles Dodgers from the Texas Rangers minutes before the deadline on Monday. The reason why he looked more than satisfied seems obvious. The Dodgers is coming close to winning the World Series that every baseball player dreams of.
The Dodgers beat the Atlanta Braves by a score of 3-2 on Wednesday thanks to starter Kenta Maeda's seven scoreless innings. With nine consecutive victories, the Dodgers has recorded 75 wins and 31 losses with a winning rate of 0.708. The Dodgers, posting the highest winning rate among 30 Major League teams, is strong enough to be the best candidate to win this year's World Series. In the meantime, the Rangers (50-56 with a winning rate of 0.472) ranks fourth in the American League West. Practically speaking, it seems highly unlikely that the Rangers will advance to the postseason.
While Darvish is happily arriving at the Dodgers, another Japanese player Norichika Aoki (35) of the Houston Astros received pretty unwelcoming news. 

The Astros acquired pitcher Francisco Liriano from the Toronto Blue Jays in exchange for Norichika to beef up its pitching lineup. After traded from a leading team in the AL West to the Blue Jays, which is mired in the bottom of the AL East, Aoki said, expressing disappointment, "I was not expecting a tradeoff. I was doing my best for a victory." Aoki played in the 2014 World Series for the Kansas City Royals but the team lost the series against the San Francisco Giants after seven games. While Aoki was playing for the Giants in 2015, the Royals won the World Series triumph. Aoki played in 70 games this year for the Astros as a backup catcher with two homeruns and a batting average of 0.272.

Park Chan-ho (43) who played for the Dodgers has the record number of wins at 124 among Asian players in the Major League after 17 seasons but has never won the World Series. Among Korean players, only Kim Byung-hyun (38) who played for the Arizona Diamondbacks has a World Series ring.
Heon-Jae Lee uni@donga.com