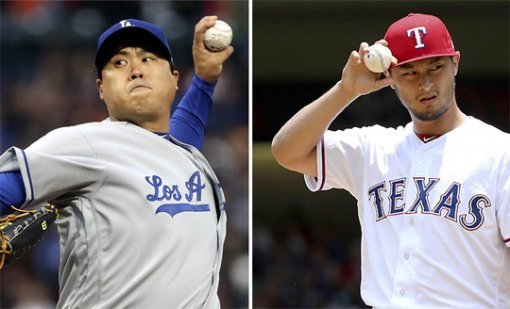 Japanese pitcher Yu Darvish was a teammate of Choo Shin-soo at the Texas Rangers up until 3:45 p.m. on July 31 (local time). A major twist occurred with about 4 hours and 15 minutes left before the deadline for non-waiver trade (trade in which teams stage without publicizing waivers) in the Major League Baseball. The Los Angeles Dodgers, which aims to gain the winner's wing for the first time in 29 years after its last World Series victory in 1988, chose to recruit the pitcher in a surprise move. Darvish became a teammate of Ryu Hyun-jin during a timespan of 15 minutes.
Watchers in the U.S. have been surprised. They say the team has secured yet another engine at a time when it is already making robust strides. The Dodgers were already showing the best performance among the 30 Major League teams until the date by posting 74 wins and 31 losses (winning rate of 0.705). Watchers say that the team already has the capability to win the World Series, but has now filled any loopholes that may still exist. The Dodgers also recruited lefthander bullpen pitchers Tony Watson and Tony Cingrani from the Pittsburgh Pirates and the Cincinnati Reds, respectively on the day.
Yu Darvish, who signed a six-year contract with Texas in 2013, will gain the free agent right after the end of this season. The Dodgers could release him in several months as it wants. However, the team has stronger interest in taking advantage of Darvish in the remaining regular season and postseason games.
With Darvish having joined the team, Ryu will likely face more fiercer competition to become a starting pitcher. Ryu has been regaining his pace in performance by showcasing immaculate pitching without even a single run during the seven innings in the game against the San Francisco Giants on July 31, but the Dodgers still has a large pool of talented pitchers. Brandon McCarthy, who is recovering from blister injury in his right hand, will come back soon, while Clayton Kershaw is concentrating on rehabilitation therapy to seek early return. Only one starting pitcher post is available in the postseason series in which generally four starting pitchers rotate to play games.
Heon-Jae Lee uni@donga.com