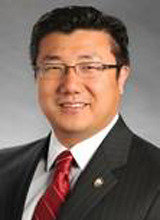 According to the U.S. Atlanta Journal Constitution and other local media, U.S. President Donald Trump has recently nominated 43-year-old Korean-American attorney Pak Byung-jin (B.J. Pak) as the head of the U.S. Attorney's office for the Northern District of Georgia. Trump said Pak shared his vision for "Making America Safe Again."
Once Pak is ratified by the U.S. Senate, he will lead the federal law enforcement that oversees 46 counties in northern Georgia for four years. Among those counties include Atlanta, the largest Southeast U.S. city.
As a 1.5-generation Korean-American who immigrated to the States at nine, Pak graduated University of Illinois College of Law, and has been working as a prosecutor and an attorney-at-law for around twenty years. He is best known for leading the prosecution of conspirators who tried to steal Coca-Cola's trade secrets and aimed to sell them to Pepsi. The first Korean to serve as a Representative in Georgia for three consecutive terms since 2011, Park was running a law firm as a partner with former GOP lawyers in recent years.
wizi@donga.com