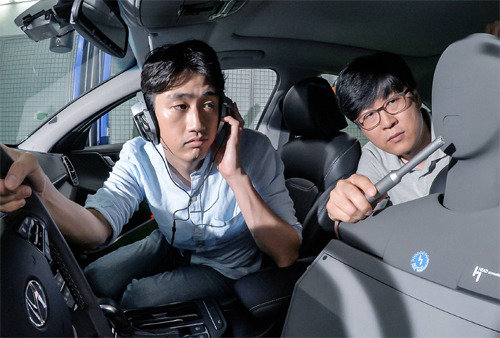 AI speakers are becoming the fabric of everyday lives, going beyond the boundary of a house. With the pace of technological application of artificial intelligence growing steeper, consumers will soon be able to meet "AI secretaries" in their car and at convenient stores.
On Monday, Kakao, a South Korean developer of an online messenger KakaoTalk, announced that it will apply a server-type voice recognition system based on its AI platform "Kakao I" to the Genesis G70, a premium sedan manufactured by Hyundai Motor, which will be released in September. While there have been many cases where the smartphone is connected to the vehicle, this marks the first time for a local company to devise a service where the embedded infotainment system of a vehicle is combined with voice recognition technologies.
The new technology will be used to control the navigation screen with the sole means of a voice. The driver can find the screens that he is looking for simply by telling the machine the name of a store, an address, or a nearby diner. All he has to do is to activate the function by pushing the button on the wheel and say the name of a destination.
Kakao and Hyundai · Kia Motors Group have worked together on the development of voice recognition technologies since they signed a technical partnership last year. The two companies are planning to work together to expand the scope of their partnership in regard to AI technologies and to facilitate the commercialization of hyper connected cars. "Voice recognition will have a vast range of applications when put together with the future connected cars," said an official from Kakao.
Hyun-Seok Lim lhs@donga.com