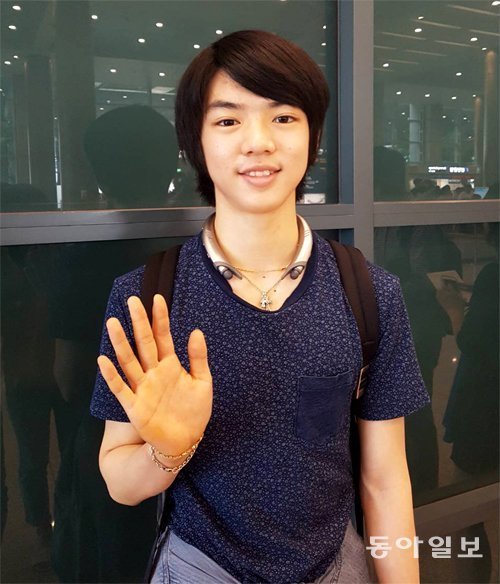 Waving his hands and smiling broadly, he returned back to Korea after a three-month training in Canada. He looked a lot more relaxed than the days when he was a shy junior skater. He's 1cm taller now and his acne marks on the face have fainted. Up for the 2018 Pyeongchang Winter Olympics, Cha Jun-hwan, a rising figure skater who is challenging Senior Championship returned to Korea on Sunday.
The 16-year-old will attend the first selection match for the Olympics from July 28 at Mokdong Ice Rink in Seoul. Olympic athletes for figure skating are selected by tallying the total points from 1st to 3rd matches. The winner from the 1st selection match is given qualification to enter the Nebelhorn Trophy to be held in September, qualifying for the Pyeongchang Olympics. "I wish to make a clean skating performance based on my practice," he said.
Having been praised as a figure skater who has a good interpretation on the music that he chooses for his performance, Cha has tried to enhance his acting skills for the new music of this season. He has chosen a remake of Louis Amstrong's "What a Wonderful World" for his short program and Gustav Holst's orchestral music of "The Planets" for free skating. "I'm working on my short program to convey the message for the peace lyrically," Cha said. "I want to express imposing and strong image just like the image of the planet for free skating."
Yun-Cheol Jeong trigger@donga.com