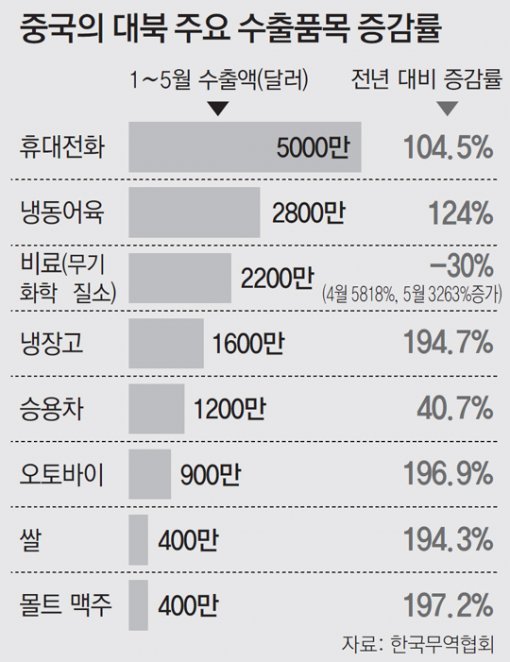 China's mobile phone exports to North Korea from January to May have doubled comparing to last year. China announced that it would ban coal imports from North Korea in February and it appeared that the country intended to step up the pressure on the North. Instead, Chinese exports to North Korea surged centering on consumer goods such as mobile phones, home appliances, textiles and groceries.
The Dong-A Ilbo studied detailed statistics on trade items between China and North Korea listed in the General Administration of Customs of China, provided by the Korea International Trade Association on Sunday and the result found that the total export volume of China on North Korea was 50 million U.S. dollars (about 56.6 billion won) for the first five months of this year, increasing by 104.5 percent year-on-year. Chinese exports to North Korea have maintained an upward trend since March, when the UN Security Council began to impose sanctions against the North in earnest, showing an increase of 111.1 percent in April and 58.1 percent in May, respectively from the previous year.
According to a report presented by a Canadian company in January, there are now 3.77 million mobile phone users in North Korea. In other words, about 16 percent of its total population of 24 million has mobile phones. The study shows that the mobile phone demand in North Korea is steeply rising this year.
Will it be good or bad to the Kim Jong Un regime? Some experts argue that increasing use of Chinese mobile phones would be helpful to the regime in a sense that most users are leaders of the Party, military, government and government-led economic institutes. However, there is also a possibility that the regime could be threatened as the use of mobile phones will facilitate a distribution of information.
Wan-Jun Yun zeitung@donga.com