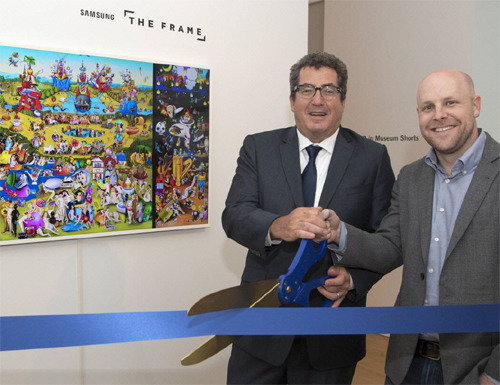 Samsung Electronics' The Frame TV has made appearance at Sotheby's, the world's largest auction house, drawing attention from visitors. Sotheby's displayed The Frame TV at an auction event in New York in the U.S. on Thursday, and introduced artworks to be on auctioned off on the screen. Sotheby's decided to exhibit The Frame constantly at its exhibition hall and VIP Lounge for six months.
The Frame, which is designed in the form of a photo frame, features the functions of adjusting brightness and color according to the illumination intensity, and even enables the viewers to sense the texture. "The Frame is a display that offers a harmonious combination of functions and design, and provides the optimal condition for viewers to experience world-class artworks," said David Goodman, chief of Sotheby's digital marketing, in explaining the reason the auction house chose The Frame as the display for showcasing its articles for auction. The Frame will also be on display at Sotheby's modern living exhibition that exhibits diverse genres of contemporary artworks.
The Frame has already formed alliances with more than 10 galleries, art museums and photographers' groups including the Saatchi Gallery in the U.K., Albertina Museum in Austria, and Magnum, an international photo journalists' group, just a month after hitting the market.
Samsung officially launched the Serif TV at the Museum of Modern Art in New York, one of the top three art museums in the U.S., last year, as the electronics giant continues collaboration with the arts community in diverse forms.
Ji-Hyun Kim jhk85@donga.com