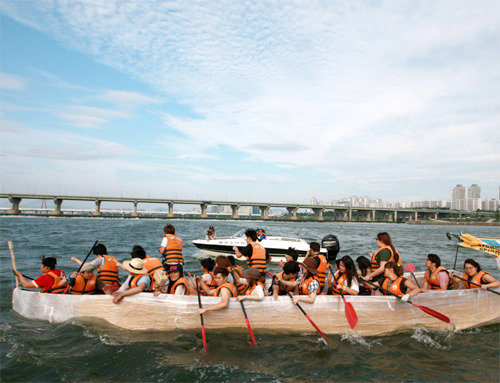 There is no beach in or around Seoul, but Hangang (the Han River) replaces a beach. The city has prepared a variety of programs to welcome citizens who spend hot summer days near the river.
The Han River Business Division of the Seoul metropolitan government said on Tuesday that it hosts the 2017 Hangang Summer Festival in 11 Hangang parks in Seoul from July 21 through August 20. Marking its fifth year this year, the Hangang Festival has become a flagship summer festival of Seoul attracting more than 10 million people every year. Last year, it attracted 11.7 million people to Hangang parks.
Under the theme of "Rediscovering how to use Hangang," it offers 80 programs including swimming, water sports, performances and exhibitions. Seventy percent of them or 55 programs are free of charge.
Most notable are this year's best programs selected by the city. They include a "Paper Boat Competition" in which people compete in the river using a self-made boat made up of corrugated paper and plastic wraps, "The Water Fight Festival" where participants fight against a monster living in the river, "Film Festival and Used Bookshop under the Bridge," which will turn into a theater or a book store under a bridge, and "Night Walk 42K," Korea's only walking program at night near the Han River.
It also offers diverse concerts. "Jazz in summer night," which will mirror the popular performances at the Jaraseom International Film Festival, and the "2017 Heartbeat Festival," which will host popular rappers. It will also create a "horror theme park" where people can feel the chill running down the spine to overcome heat. An artificial riverside sand beach will also be in place like a sand beach. Every Sunday, some 100 food trucks will join together for a "Gourmet Party." The "Global Food Festival" will offer international food to experience different dishes from the world.
"We hope citizens could spend the sweltering hot summer season in Hangang parks instead of going far away," said Yoo Jae-ryong, the head of the Hangang River Business Division of the Seoul city government. For further details, please go to the festival website (hangang.seoul.go.kr/project2017).
Tae-Ho Hwang taeho@donga.com