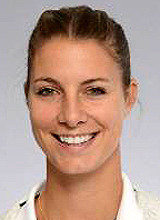 Four and a half months pregnant Mandy Minella, a Luxembourgish tennis player, has displayed strength in the Wimbledon Championships, the third major tennis competition this season. The 82bd world ranker played at the first round in women's singles at the All England Club near London wearing a loose white one-piece skirt. She apparently had a pregnant belly but Minella didn't make public of her pregnancy until the game ended. Minella married her coach Tim Somer in 2014 and will be giving birth at the end of this year.
Minella rivaled Francesca Schiavone, a 37-year-old veteran player who was the champion of the French Open women's singles in 2010, and was beat in just 53 minutes 0-2 (1-6, 1-6). But the game gave her unforgettable memories, and she received 35,000 pounds (52.12 million won) of prize money even as she failed in round 1.
Stanislas Wawrinka, who won the French Open men's singles this year, became an unexpected victim. At round 1 he was beat by Daniil Medvedev 1-3. Medvedev is a rookie this season and had failed in round 1 in the Australia Open and the French Open.
Jae-Hyeng Kim monami@donga.com