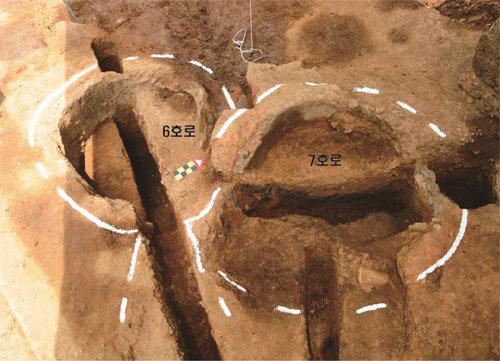 After a big discovery in 2016, a large amount of iron-making relics of the Baekje Kingdom were found again at the Tangeumdae Terrace in Chungju, North Chungcheong Province.
"Eight smelters and one site with remains of fire burning for cutting of iron ore were found on the southern hill of the Tangeumdae Terrace," the Jungwon National Research Institute of Cultural Heritage said Wednesday. The institute discovered three smelters and nine sites with fire-burning remains of the Baekje Kingdom last year. Carbon dating from a sample of the burnt wood shows that these historical findings date to the fourth century A.D.
The county has been known for abundant amount of iron resources, and this time eight round smelters were found in a 200-square-meter area. "It shows the highest density of iron-making remains among any other iron-making sites that have been discovered so far," researcher Han Ji-seon said. "This could be a clear testament of an intensive iron manufacturing system during the Baekje Kingdom."
According to the institute, a total of 11 smelters have been discovered since last year and they appeared scattered on three different stories. In other words, iron-makers repeated building a new smelter on an old smelter covered with soil. Researchers have also discovered a trace of reutilizing the bottom structure of a smelter to enhance effectiveness.
Iron-manufacturing flourished near the Tangeumdae Terrace in the fourth century for two reasons. The county was one of the major producers of iron ore and transport of iron was convenient by the Namhangang river.
Sang-Un Kim sukim@donga.com