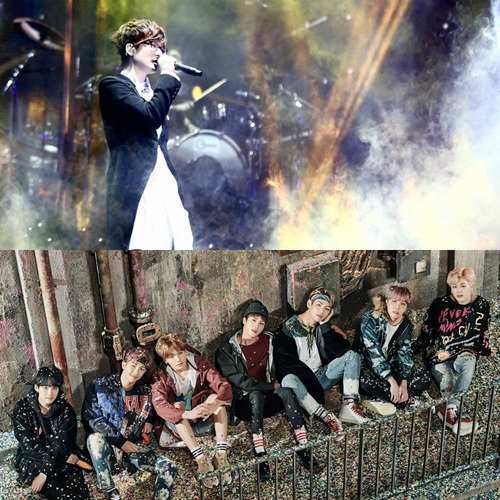 Pop icon Seo Tae-ji will be presenting a performance with idol group Bangtan Sonyeondan.
Seo's agency said Tuesday, "Bangtan Sonyeondan will be on stage with Seo at his 25th anniversary debut concert on September 2 in the Main Olympic Stadium in southern Seoul to perform songs of Seo Tae-ji and Boys." Seo and Bangtan will sing together songs contained in Seo Tae-ji and Boys' first. four albums. Since becoming solo, Seo has performed those songs with his band mainly in a rock format.
Bangtan also plans to announce a remake album of Seo's songs soon. The remake project is part of the 25th anniversary celebration for Seo's debut, and will also be participated by Urban Zakapa, Yoon Ha and Rupi and Napla among others.
Bangtan was listed on the 25 Most Influential People on the Internet in 2017 chosen by TIME magazine. Among the list announced by TIME on Monday (U.S. time) are U.S. President Donald Trump, U.S. pop star Katy Perry, and British author Joan K. Rowling who wrote the Harry Potter series. TIME said it sized up contenders by looking at their global impact on social media and their overall ability to drive news. Bangtan ranked No. 1 for the last 27 months in U.S. Billboard's weekly "Social 50 Chart." TIME said "Bangtan cultivated a virtual fanbase that could give the Behive a run for its money." Behive is Beyonce's fan club. TIME touted Bangtan an "impressive feat for any artist."
Bangtan won the Top Social Artist award last month beating Justin Bieber, Selena Gomez and Ariana Grande.
imi@donga.com