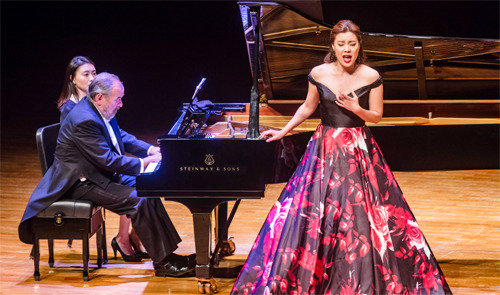 Soprano Hwang Su-mi and Austrian classical pianist Helmut Deutsch gave a duo concert on last Sunday at the concert hall of Seoul Art Center.
The audience gave a gasp of astonishment when the soprano in floral dress went around stage while singing an encore song with excitement. It was a rare scene that the audience gave a gasp during classical music vocal performances. After the concert, Hwang expressed regret and said she wanted to turn more.
It was their second performance in Korea in two years and the program list included songs by Britten, Brahms, Liszt and Strauss. Helmut Deutsch is known as the most successful song recital accompanist of the world. In particular, Hwang showed off her talent by masterfully singing songs of Britten recommended by Deutsch.
Hwang Su-mi became famous after winning the first place at the 2014 Queen Elisabeth Competition, one of the three major competitions for classical singers, and Deutsch was one of the jury members. He is a master pianist who has collaborated with the world's best singers including Jonas Kaufman, Ian Bostridge, Diana Damrau, and Matthias Goerne.
Deutsche first met Hwang in the 2013 master classes in Italy and sent an email to collaborate with her. Since then, he has become Hwang's best accompanist in major concerts in Europe including Wigmore Hall in London, not to mention the 2015 concert in Seoul.
She has been singing as a soloist at Bonn Opera Theater since 2014. Hwang is one of the three sopranos among 15 soloists in the theater. She debuted as Pamina of the Magic Flute and took many roles in operas such as Turandot and Rinaldo.
"I've never thought that being an Asian created an unfavorable condition to take an important role in operas," she said. "The Magic Flute is so popular in Germany to the extent that people memorize the entire script. I felt honored to take the main role. I'll try hard to take great roles in the future."
Hwang will be keeping herself very busy this year as well. She will attend a British festival in August and plans to spend most of her days in Europe. She also said that she wants to meet the Korean audience at operas in the near future.
Dong-Wook Kim creating@donga.com