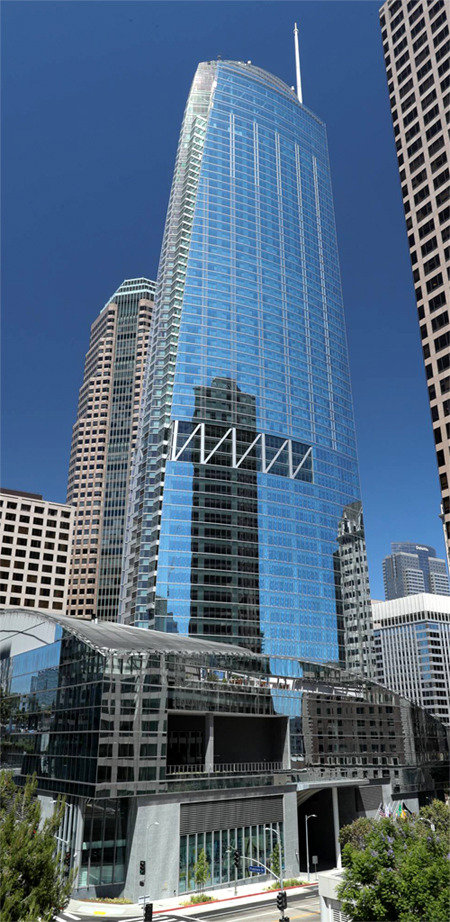 Hanjin Group has built up a new landmark in the West Coast of the U.S., by recreating an old hotel located in central Los Angeles. The city also welcomed an investment over 1 trillion won with tax exemption, and was named as a new best practice for bilateral economic cooperation as the two nation leaders will meet on Wednesday.
Hanjin Group announced it has held an opening ceremony for the "Wilshire Grand Center" located between Wilshire and Figueroa boulevards on Friday. The event participants included Hanjin Group Chairman Cho Yang-ho, Korean Air CEO Cho Won-tae, and AC Martin CEO Chris Martin.
Hanjin Group acquired the 15th-floor Wilshire Grand Hotel in 1989 and remodeled the building, and then announced the "Wilshire Grand Project" to revamp into the state-of-the-art hotel and office building in 2009. The hotel was reconstructed into a 335-meter-high 73-floor skyscraper with 1 billion U.S. dollars (or 1.13 trillion won) injected for eight years. The center will be used as commercial and convention purposes (1-10th Fl.), offices (11-30th Fl.), and hotel rooms, lobbies, and amenities (31-73rd Fl.). The center placed itself as the highest rising building in Los Angeles, beating the former highest U.S. Bank Tower by 20 meters.
At the opening event, Chairman Cho expressed his personal impressions, saying, "I have at last fulfilled my commitment with myself and the City of Los Angeles." Cho graduated his high school at the U.S., and studied Business Management at University of Southern California. Though the project faced many difficulties such as the recession in the States and massive investment since the announcement, his impeccable will finally bore fruit. As the leading affiliate of Hanjin Group, Korean Air also holds its U.S. headquarters in the city, and is currently the largest Asian airline with its planes placed in commission in 13 cities in the U.S.
The recent project is receiving high hopes for creating new jobs in the U.S., as President Donald Trump expects foreign companies to pit more emphasis on investments and new jobs in the American soil. According to Hanjin Group, around 11,000 jobs have been created during the construction period, with 80 million dollars of tax revenue. Nearly 1,700 jobs and an annual tax revenue of 16 million dollars are forecasted since the opening of the new building.
Min-Ji Jung jmj@donga.com