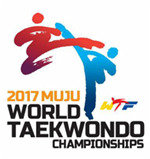 The World Taekwondo Federation (WTF) World Taekwondo Championships is to open at Muju, North Jeolla Province this Saturday. Held biannually, the competition marks the 23rd event this year.
The city of Muju attracted the event in an aim to promote its Taekwondowon worldwide. Established in 2014 with over 200 billion won invested for construction, Taekwondowon prouds itself as the "holy land of global Taekwondo." The site itself is 10-folds to that of Seoul World Cup Stadium, and can accommodate various events including training, education, research, and exchange. This year's championship will boast the largest since its opening, as it will be held at the new venue.
"The upcoming event will be the first one to be held at Taekwondowon, the heart of Korean martial arts," said WTF President Cho Jeong-won. "When global players and executives see the new venue for themselves, they will indeed look up to Korea as the birthplace of Taekwondo."
To befit its status, the event will be held as the largest event in its kind, visited by 971 athletes and 796 executives from 183 nations. As most of the world's best performers per each weight class will play in this event, the upcoming event is likely to present only the best in not only performance but also standards. Eight male and female players of all four weight classes who grabbed the gold medal at the 2016 Rio Olympics will also contend at this event.
Jong-Seok Lee wing@donga.com