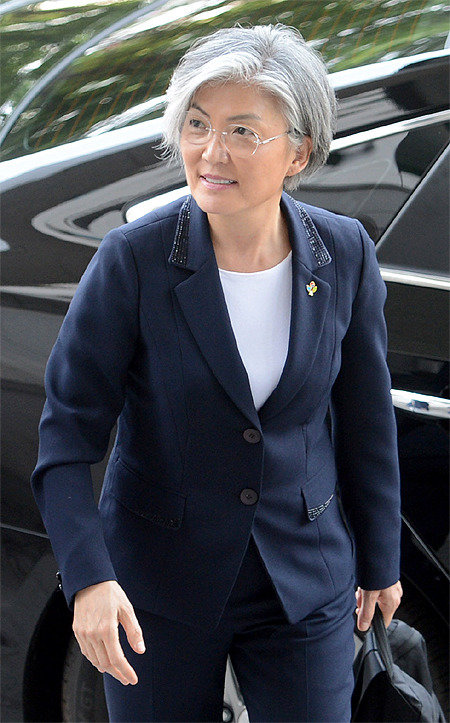 President Moon Jae-in pushed forward his plans to appoint Kang Kyung-hwa as his Foreign Affairs ministrr, regardless of the objection to adopt the hearings report by the National Assembly on Sunday. In addition, he criticized the opposition parties, which objected his plan, saying, "It is not appropriate to depict a disagreement between the president and the opposition parties as a showdown or a warfare."
Meanwhile, President Moon expressed his "regret" as the former shadow of Justice Minister-nominee Ahn Kyung-hwan was unseated after the hasty appointment. The presidential office Cheong Wa Dae also mentioned it may withdraw its designation on shortlisted contenders of the remaining ministries. While the recent announcement came as a "strong yet soft" approach to deal with the recent criticism on the new administration's "my way," it still remains unclear whether it will provide a breakthrough in the National Assembly, as the opposition party remains resilient.
On presenting his appointment certificate to Kang, President Moon urged the Ministry of Foreign Affairs to move away from opting those who passed the foreign affairs examination, and go beyond the four-major nations diplomacy (the U.S., Japan, China, and Russia). Kang became the second aide appointed by President Moon without the adoption of hearings report, preceded by new Fair Trade Commissioner Kim Sang-jo.
President Moon's sharp criticism on the opposition parties continued, saying, "The president and the opposition parties can always have different opinions on candidates, but that does not mean that the opposing parties can express the disagreement as a showdown by depicting as a declaration of war, railroading, or refusal to cooperate."
The appointment of Kang was faced with fierce opposition from the other side of the aisle, mainly comprised of Liberty Korea Party, the People's Party, and the Bareun Party. "The recent remark made by the president is by no means a declaration to 'give up governance,' which no cooperation will be made, and the opposing parties will only solidify their positions as the appointment has been pushed forward," said the Liberty Korea Party. Outlook on the recent appointments look murky, as some in the opposing parties are discussing plans to boycott the National Assembly sessions.
Sang-Jun Han alwaysj@donga.com · Su-Young Hong gaea@donga.com