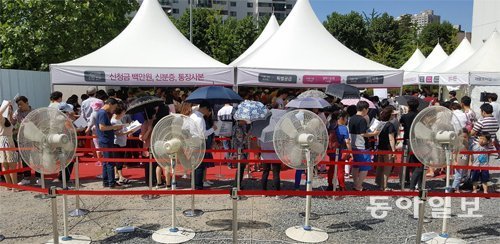 "Many people bought a house in the morning and earned a 20 million won premium by selling in the evening during the initial Roh administration days."
Most of the veteran real estate agents who brokered real estates at Gangnam, the epicenter of skyrocketing housing market, for more than 20 years, agreed that the recent real estate market situation is showing a stark difference from the early days of the Roh Moo-hyun administration.
"Since day trading was a fad back in those days, a lot of investors joined the bandwagon without any knowledge of law or tax," described Hwang Hwa-seon, who is running a real estate agency in Gaepo-dong, Gangnam-gu.
However, realtors said that a significant number of people are looking for long-term earnings from leasing as a provision after retirement, rather than aiming for short-term margins in recent years. "As Korea is entering an aging society, many investors tend to lease homes under long-term or monthly installment basis for tenants in their 30s or 40s looking for a nest in Gangnam to send their kids to prestigious schools," explained Kim.
Behind the overheated housing market under the Roh administration was the overflowing compensation, as major government bodies relocated from Seoul to other regions named as Innovation, Business, and Administration Cities. With their wallets filled with compensation money, local investors flocked to Gangnam to buy houses. Hwang said that there were even jokes that a monetary revolution is about to happen, since there were so many rich local investors coming to Seoul. INEX Housing CEO Kim Shin-jo added that back then, the compensation made to solve the overcrowding issue in Seoul became a boomerang, and eventually turned into speculative capital.
Seasoned realtors in Gangnam also told that investors were showing a different stance for the upcoming housing regulations. "During the Roh administration days, investors were hasty to close their deals when regulation was nearing," Kim sais. "However, investors have experienced the learning curve, and are sitting on the bench with firm belief that strongholds will never be conquered regardless of how tight the government regulates the market."
Sung-Hwi Kang yolo@donga.com