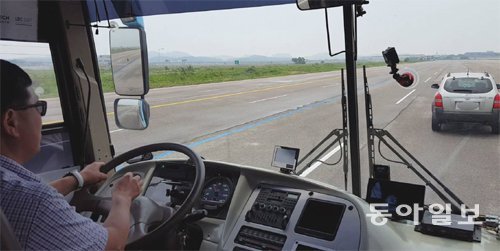 A 45-passenger bus driver wearing sunglasses closed his eyes when the speedometer mark exceeds 50 kilometers per hour while driving on the road for comprehensive testing at the Korea Automotive Testing & Research Institute under the Korea Transportation Safety Authority in Hwaseong city on last Friday. A special micro camera is installed between the steering wheel and dashboard swiftly analyzed the driver's face, and a warning message was sent with vibration on the watch shaped wristband worn by the driver. It all took a second after the driver closed his eyes.
This device to warn bus driver of drowsy driving and inattention is now being jointly developed by the organization and eight other relating agencies and private companies. The device is equipped with a technology that enables comprehensive detection of physical conditions of drivers and the automatic issuance of warning. The KT developed this device to lead safe driving of heavy-duty vehicles with higher chances of fatal accidents, comparing to general purpose vehicles. The organization has spent 3.5 billion won since 2013 and completed the test run of five red buses, express buses that travel from the Seoul metropolitan area in April.
The Korea Transportation Safety Authority displayed on the day how the warning device operates on that day in four scenarios including when the driver closed his eyes, when forward visibility is obstructed, when the distance to the car in front of the testing vehicle has narrowed, and when the driving lane has changed. Basically, this device works in real-time as the face recognition device checks the conditions of the driver such blinking his eyes and others. The breath sensor integrated into seat belts and wristband check pulse rates to determine whether or not the driver is drowsy.
The front crash prevention system works by calculating the information collected by the forward recognition camera installed in front of the driver's seat, driving speed, and others comprehensively. When distance to the vehicle in front of the testing sample has decreased to 14 meters while driving at the speed of 50 km/h, warning signals were issued by the system as well as the wristband. Also, the system warned the driver when the vehicle escaped the lane as the front camera recognizes the white lane of the road.
"We plan the second test run for 15 buses that operate nationwide in the second half of this year," said Choi Kyung-im, head of Transportation Safety Training Center at the Korea Transportation Safety Authority. "We will also review the possibility to deploy the device as a model that is also operable to freight motor vehicles."
Seong-Taek Jeong neone@donga.com