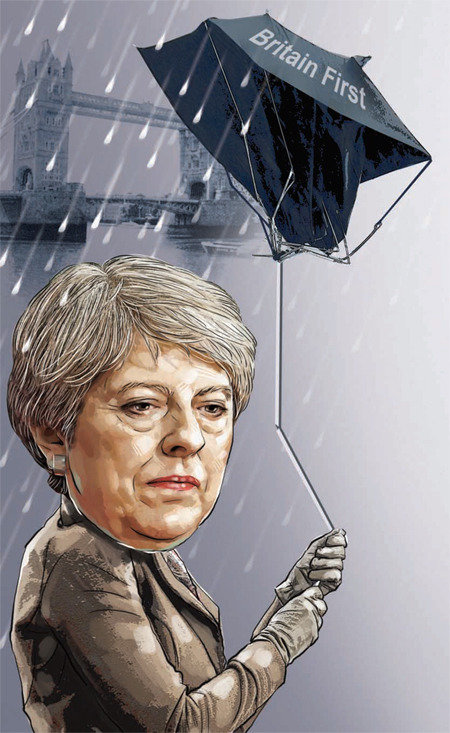 "This country needs a period of stability…Party will ensure that we fulfill our duty in ensuring that stability," said British Prime Minister Theresa May on Thursday (local time) making an effort to conceal her emotions after receiving the disastrous exit poll results of a snap election she called. While her Conservative Party maintained the status as the biggest party of the British parliament with 318 seats, it has lost 12 seats, failing to secure the majority (326) of the parliament. May, who voluntarily called an early general election to press ahead with her "Hard Brexit" agenda and solidify her footing within the party, is now facing a full-blown backfire.
In June last year, the U.K. made a bold declaration to leave the EU under the slogan of 'British First," but the country is facing extreme internal discord instead of the stability it preached. With the Conservative Party now unable to form a government on its own, rumors are brewing that Prime Minister May might be sacked soon. A more pessimistic view holds that her tenure won't even survive the upcoming weekend. "Theresa May has made one of the worst mistakes in British electoral history," said Laura Kuenssberg, BBC's political editor. In fact, May is facing the disgrace of becoming a prime minister to have served the highest office of Britain for the shortest period of time in 94 years.
The advent of the so-called "hung parliament" has made the future of Brexit extremely difficult to predict. On momentum, the opposition parties are demanding "Soft Brexit" where the country maintains the framework of a single market with the EU. With the negotiations with Britain taking place in 10 days, the EU, which has demanded a quick exit, is also finding themselves with little room for maneuver.
The U.S., which voted for a business tycoon to become their president under the flag of "America First" is also suffering disgrace as a "country with a liar at the helm." following the testimony of former FBI Director James Comey. Mr. Trump, the "Washington Outsider," is unabashedly turning a blind eye to check and balance and independence of judiciary, the core values of Washington's political system, making his country the subject of derision around the world.
One citizen at Comey's hearing said that while it may be satisfying at the moment to see Trump suffer, it is not so pleasant as the fall of the U.S. president also means a fall of the country's prestige and pride.
After formulating the twin values of integration and openness after the end of the Second World War, the U.K. and the U.S. are trying to reverse the tide towards discord and isolation, which is characterized by Brexit and the presidential election in the U.S. Self-inflicted by "national egoism," the Atlantic alliance is reeling, drawing the attention of the world.
Jung-Min Dong ditto@donga.com · Seung-Heon Lee ddr@donga.com