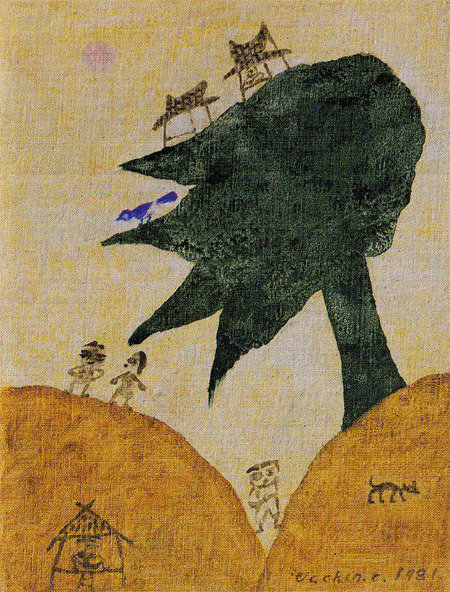 Chang Ucchin (1917-1990) is one of the first-generation Western painters who, together with Park Soo-geun, Lee Jung-seob, Kim Hwan-ki, represent Korea's modern and contemporary fine art. He developed his own style of painting by painting routine objects familiar to Koreans such as trees, birds and children. Just as he portrayed himself as "simple" throughout his life, the core part of his art lied in simplicity.
Chang Ucchin Museum in Yangju, Gyeonggi Province will hold a special exhibition in celebration of the centennial anniversary of Chang's birth until August 27, showcasing about 30 oil paintings of trees created between the 1950s and 1990, when he passed away.
Chang had his studios in rural areas to dedicate his life to art and live in nature. Therefore, it is natural for him to create paintings of trees, bird and hills. His landscape paintings featuring the sun, the moon, houses, families and birds in simple colors and lines give simple and warm feeling. In particular, trees are objects representing Chang's nature-friendly values, allowing viewers to fathom the artist's attitude toward life by adapting to nature embracing trees that have life force.
The museum also holds a permanent exhibition showcasing some 20 pieces of work that represent Chang's art world, his belongings and archived materials. His 1951 painting "Self-Portrait," which depicts a man in a suit standing on a rice paddy where rice is ripening, became his representative work that is acclaimed for the dreaming of a utopia amid the Korea War.
Jee-Young Kim kimjy@donga.com