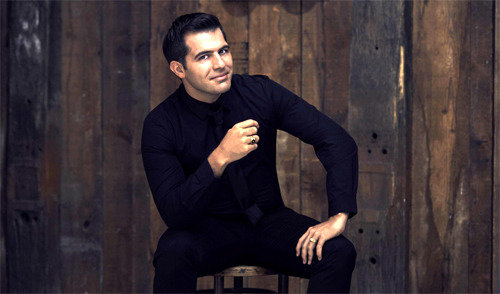 A teenage boy aged 15 made an appearance in 2009 in "Australia Got Talent," the Australian version of television audition program "Britain's Got Talent." All watchers expected he would sing a pop song, but he sang the aria "Nessun dorma" from the opera Turandot. He lacked singing skills but fascinated watchers through his powerful voice and unique tone nonetheless. He went all the way to the final and won the championship to emerge as the most popular tenor in Australia.
Mark Vincent is enjoying immense popularity on par with an idol star in Australia. After winning the audition, he signed contract with Sony Music, and saw his first album released in 2009 rank second in the Australian music chart. All of his albums have ranked among the highest on the chart. In a recent email interview with The Dong-A Ilbo, he informed that "A Tribute to Mario Lanza," which was released this year, also ranked third on the chart.
"The album is 'A Tribute to Mario Lanza' (1921∼1959), the American tenor. I brought in Lanza's recorded voice and arranged the song to sound as if I am singing along with him like a duet."
Vincent's family is engaged in fruit business. The only musician in his family, he started singing due to influence of his grandfather who would run an Italian restaurant when he was young.
"I would go to my grandpa's restaurant every weekend. It was my hobby to sing after Italian vocal music that was playing at the restaurant," Vincent said. "One day, my grandpa asked me to sing songs in earnest to encourage me, and I decided to challenge and participated in the audition."
He made his debut as a musical actor two years ago when he first starred in the musical Dirty Dancing. He is currently on a national tour in Australia with the musical My Fair Lady. Some have raised concern that he might have transformed into a crossover musician.
Dong-Wook Kim creating@donga.com