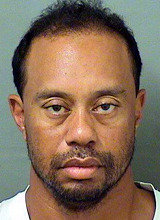 Is the "falling Tiger" completely hopeless? Tiger Woods, who has been already struggling amid deep slump, has gotten into another trouble.
Tiger Woods was caught for drunk driving by police in Jupiter, Florida where he is residing at 3 a.m. on Monday (local time), and booked into the Palm Beach County detention house, before being released after pledging to appear before court. His blood alcohol concentration and the identity of the passenger in his car have not been made known.
"Alcohol was not involved, and I had an unexpected reaction to prescribed medications (for treatment of waist illness). I did not realize the mix of medications had affected me so strongly," Woods said. In apologizing to his family, friends and fans, he also said, "I will try to ensure that this never happens again."
A mugshot that Woods took in the local jail went viral on social media. In the photo, Woods displays his eyes unfocused, with his face unshaved and untidy.
Woods is staying away from the field and reportedly focusing on rehabilitation after undergoing his fourth waist surgery in April, but his already tarnished reputation will suffer a major setback due to the latest mishap. Sports channel ESPN reported that it wondered why Woods did not use proxy driver service that only costs several dollars, and that controversy over his private life has flared up all over again. "Chances are high that he could have taken medication rather than alcohol. It is somewhat fortunate that no one was injured," Forbes said.
Woods, who stayed atop for 687 weeks during the peak of his career, saw his global ranking fall to the 876th place as of Tuesday.
Jong-Seok Kim kjs0123@donga.com