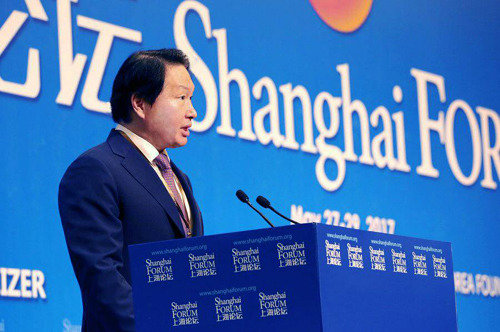 "SK Group Chairman Chey Tae-won is studying China again."
A high-ranking official of SK Group recently told the press, implying Chairman Chey's recent primary focus. It was Chey's decision to take a new approach on China business.
.
In 2006, Chairman Chey officially announced the "China Insider" strategy which aims to target China as the second domestic market. For the past 10 years, SK Group was in fact "all-in" for China. However, SK Group is undergoing the most harsh period as its business in China is directly and indirectly hit by an unfavorable political decision made by the government; the deployment of THAAD.
"Chairman Chey who departed to China on May 24 to attend the Shanghai forum is expected to not only seek a breakthrough in normalizing the business in China, but also reorganize his thoughts on the so-called "approaching China" such as methods, period, and process," said an SK official.
.
His visit to China came as the first after being lifted from prohibition of departure since April for the last four months. Choi also visited Japan for two nights and three days on April 24 to check the acquisition of the Japanese Toshiba's memory chip business by SK Hynix.
Chey immediately headed to Beijing right after his arrival in China. There, he met with its Chinese holdings company SK China CEO Jerry Woo to discuss the current progress and solutions on external headwinds such as deployment of THAAD on their business in China.
Jerry Woo was placed as the new head of its Chinese branch on April 1 by SK Group with an aim to seek a breakthrough in the currently sluggish business in China. CEO Woo formerly headed the overseas commerce at the Chinese Committee on National Development and Reform, and worked as an Investment Banking expert at Goldman Sachs in China since 2009. Woo's role as a liaison between high-ranking officials in the politics, business, and investment banking will be vital for SK China which is currently involved in real estate, renewable energy, and rental cars and aims to spot and invest in new businesses.
Dong-Il Seo dong@donga.com