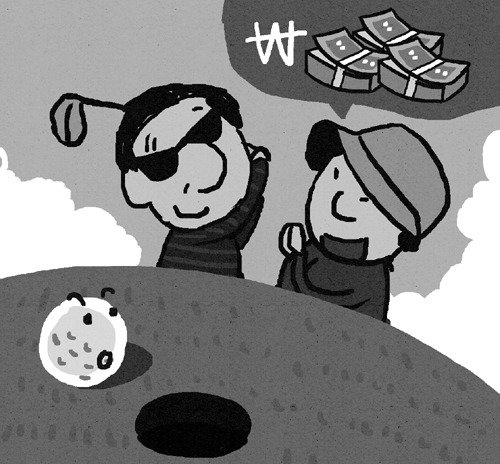 A person took out a "Hole-In-One" insurance policy. If the insured makes a hole- in-one during the insurance period, the policy pays back all the cost spent for making the hole-in-one. In golf, a hole-in-one is when the ball hit from a tee shot finished in the cup while albatross refers to when a golfer scores three-under-par on a single hole. In general, the insurance products sell as special contract for golf or long-term insurances.
The person named "A" made a hole-in-one on the fourth month on the insurance period and received some 5 million Korean won (approx. 4,469 U.S. dollars). Then the person bought new insurance and made another hole-in-one along with albatross, and was paid back 6 million won (approx. 5,363 dollars). In this way, A received a total of 20 million won (approx. 17,876 dollars) with six times of insurance money for 15 months. An ordinary person has a possibility of one twelve-thousandth in making a hole-in-one. Up until 2016, however, some 104.9 billion won (approx. 94 million dollars) have been paid for the last five years as hole-in-one coverage.
The Financial Supervisory Service said on Sunday that it has found 140 suspects for insurance fraud who received hole-in-one coverage for more than four times as "A" has done. The suspects included 21 insurance planners who have unfairly received some 1 billion won (approx. 893,790 dollars) in insurance.
According to the police, 34 out of the suspects turned out to have conspired with other insurance planners and caddies to make fake hole-in-ones. They submitted counterfeit certificate and cancelled credit card receipt to insurance companies to claim the money. "A" is also suspected of using the same method to receive the insurance money.
Ae-Jin Ju jaj@donga.com