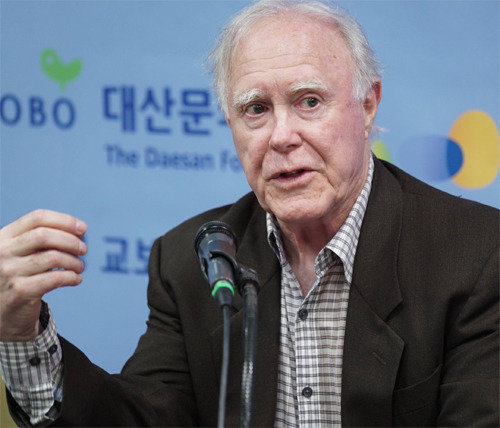 The road follows the Han River. The river begins on the mountain where we are headed/ and flows to the west./ The color of road this morning is gray blue resembling the river,/ carried on the wind of goldish stripes. August,/ The cloudy morning sky after rain/is colored light grey, and the play of sunlight on roadside puddles/are so bright as if they holds the world/like a straight posture of hard working young monk." (Robert Hass, full text of "Bus to Baekdamsa")
Three poems on Korea of Robert Hass (76), chair-professor at University of California at Berkeley, were translated and introduced on Monday. Mr. Hass is now in Korea to attend the Seoul International Forum for Literature 2017. He published collections of poems such as "Human Wishes (1989)," was appointed as a laureate poet twice and won many literary awards including the Pulitzer Prize.
Hass wrote three poems on Korea including "Bus to Baekdamsa," "A Dress for Dancer with Black Hair" written in the background of a road to Seokguram, and "Heading Back from Panmunjom, DMZ" on the Korean War.
Jung Eun-gui, professor at Hankuk University of Foreign Studies, translated his poems. In his poem titled "Heading Back from Panmunjom, DMZ," Mr. Hass wrote, "There is no proof on how people, who should share a sense of shame, take such facts," and depicted the tragedy of the dead who lost their lives during the war.
Jong-Yeob JO jjj@donga.com