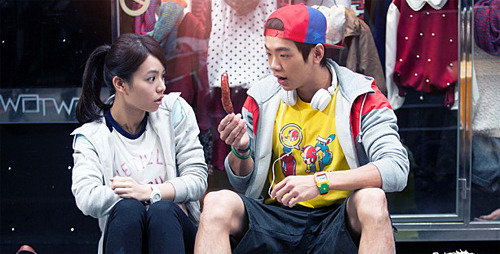 If you were a student in the 1990s, you would recall "Love Letter (1995)" by Shunji Iwai, a movie famous for "Ogenkidesuka (How are you)?" The movie about the first love between a boy and a girl attracted 1.15 million audiences. "April Story (1998)" and "Poppoya (1999)" were also famous romantic movies with innocent and genuine love. All of them were made by Japanese directors.
Taiwanese romance movies have replaced Japanese ones in the romantic movie sector. A boy and a girl in school uniform with no makeup, bicycles in the greenish landscape, and the careful gesture and expressions. Taiwanese romance movies stole Koreans' hearts – ranging from "Eternal Summer (2006)," "Secret (2007)," "Hear Me (2009)," "You Are the Apple of My Eye (2011)," "Our Times (2015)" to "Café. Waiting. Love" released on Thursday. While "Eternal Summer," the first generation of Taiwanese romance movies attracted only 4,507, "Secret" got popular as Jay Chou directed and acted for the movie and more than 90,000 visitors watched the movie. "Our Times" released in 2016 peaked at 409,689 visitors.
Romance movies started to be created in Taiwan after the 2000s. In the wake of fast economic growth since the 1970s, the Taiwanese government started to pay attention to the development of local contents and censorship was eased. With the pronounced activities by directors such as Edward Yang and Hou Hsiao-Hsien who created Taiwanese new wave with "In Our Time (1982)" and "The Sandwich Man (1983)," many masterpieces reflecting Taiwanese society, history and politics were created. As the movies were not that commercial, however, Hollywood movies have eroded the Taiwanese movie market since the late 2000s. It weakened the movie industry and low budget, low-risk romance movies began to be created so that they can be made in a short period time without big risk.
"While Taiwanese romance movies are often artificial and childish, they are leveraging nostalgia marketing using young people," movie critic Jeong Ji-wook said. "Taiwan's unique weather and landscape are one of the reasons why the movies are popular."
Ji-Hoon Lee easyhoon@donga.com