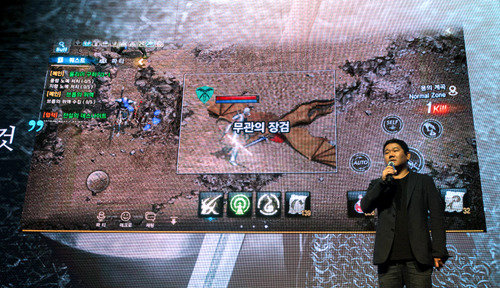 The number of pre-orders for Lineage M, the most anticipated game in the second half of 2017, has surpassed 4 million. Lineage M has received a record-breaking reception in terms of pre-orders.
NCSOFT held "Lineage M the Summit," a showcase to unveil the company's Lineage M, on Tuesday in southern Seoul. NCSOFT said that Lineage M, a massively multiplayer online role-playing game (RPG) on mobile developed by the company, will be simultaneously released on June 21 in app stores of Google and Apple. NCSOFT has ambitiously developed Lineage M for more than two years by using intellectual property (IP) rights of Lineage 1, the company's popular online game.
The game industry expects that Lineage M can be another mega hit game following Revolution, if the pre-order exceeds 5 million as the company predicts. Revolution is a mobile game developed by using the company IP of Lineage 2.
As Lineage M has received record-breaking pre-orders, some industry experts forecast that Lineage M will exceed the performance of Lineage 1, a PC online game and the main income source of NCSOFT. "Average sales of Lineage M on a daily basis is estimated at 2 billion won in the second half of 2017 and this figure surpasses the sales records of Lineage 1, whose yearly sales is recorded at 300 to 400 billion won, " Mirae Asset analyst Moon Ji-hyun said.
There will be a fierce competition between Revolution and Lineage M as the launch of the game is scheduled in June. Revolution still tops the sales charts of both Google and Apple app markets since December last year. The securities industry estimates that the sales increase of Revolution has been stabilized to record 3 billion won per day.
Jae-Hee Kim jetti@donga.com