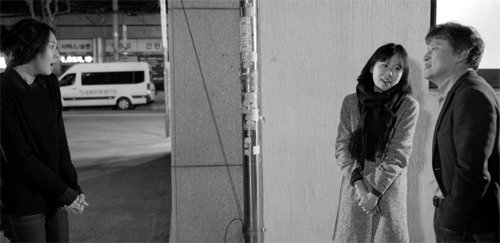 The most interesting point of this year's Cannes Film Festival is if a Korean film director wins Palm d'Or, the highest prize. Director Hong Sang-soo's "The Day After" is a black and white film shoot in February for three weeks in Korea and its simple storyline is almost unknown. The recently released trailer depicts mostly Bong-wan (married man, starring Kwon Hae-hyo), Arum (employee of a publishing company, starring Kim Min-hee), and Bong-wan's wife (starring Jo Yoon-hee) who misunderstands Arum as a secret mistress of her husband.
The movie does not deliver a social message but many predict that Hong is the potential winner of the Cannes 2017, as it is Hong's fourth movie that has been selected to compete for the Palme d'Or in the main competition section and his another film "Claire's Camera" has also been selected to be screened in the Special Screening Section.
Director Bong Joon-ho's "Okja" is a story of a young girl who risks everything to save her massive animal friend named Okja. Not to mention its unique storyline, Okja is now at the center of the controversy due to its distribution method.
The Cannes Film Festival announced that "Okja" and Noah Baumbach's "The Meyerowitz Stories," funded and distributed by American online streaming service provider Netflix, have been selected to compete for the Palm d'Or in the main competition section this year and French exhibitors strongly complained that the presentation of both films should not be allowed as they did not respect traditional screening method. Although screenings are not cancelled, the Cannes has decided to change its rule to invite films that are screened at French movie theaters only. Considering the mood, it is certainly uncomfortable for the Korean movie to be awarded at the Cannes 2017. One good thing to Korean films invited this year's Cannes is the fact that director Park Chan-wook joined as Cannes Jury.
Sun-Hee Jang sun10@donga.com