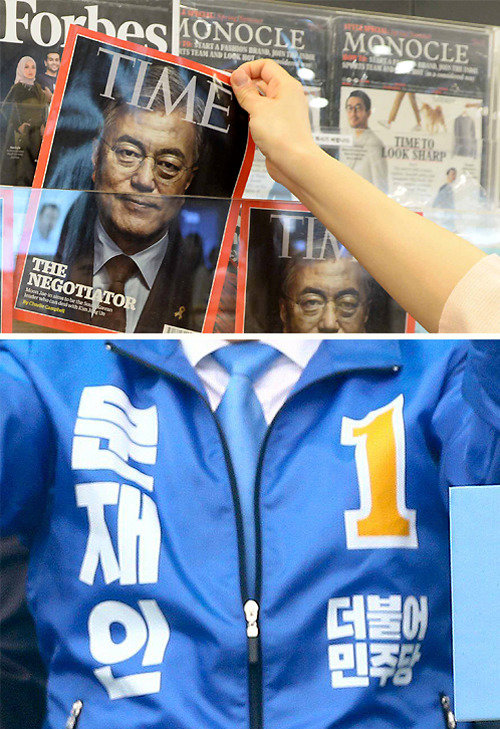 It was a title frequently spotted at online secondhand goods communities on Wednesday, right after President Moon Jae-in was elected. Online used stores were filled with selling advertisements with a near-circular "President Moon's glasses" priced from 300,000 to 500,000 won, originally sold at 600,000 won at opticians. A Special Forces uniform tagged with the name "Moon Jae-in" was sold in just 30 minutes, and there were even dolls made with 3D printers which resembled the new president.
While President Moon goods (or related products) churned out, several products were sold at premium prices. The Asian edition of The Times, which covered the face of the then presidential-candidate Moon just before the election became a rare collection. According to Kyobo Books, over 10,000 copies of the "President Moon Times" have been sold out since it was on the newsstands on May 6. Indeed, the sellout shows a sharp contrast with former President Park Geun-hye. After the presidential election back in December 2012, former President Park Geun-hye's photo also appeared on the same magazine, but only 30 copies were sold in a month, according to the online bookstore Interpark. Driven by skyrocketing demands, the publisher ordered an additional 20,000 copies. Thanks to its huge popularity, the "Moon Jae-in Times" is sold at 8,000 won, 1,000 won higher than its actual price at online secondhand malls.
Demands for items used during the presidential campaign are also gaining high popularity. Online thrift shops were filled with buyers wanting to purchase jerseys or t-shirts tagged with "No.1 Moon Jae-in." As one buyer offered the price at 50,000 won, another buyer doubled the price. There are even prospective buyers who wish to offer 15,000 won for a presidential policy pledge booklets; some 1,000 copies which were sold or distributed by the Democratic Party during the campaign.
The biography of presidential candidate Ahn Cheol-soo saw a plunge in its secondhand value from 13,000 won to 400 won. However, books written by the new president are frequently demanded by readers at bookstores where a special corner is prepared just for his collections. According to Kyobo Books, sales of President Moon's most famous book titled "Fate" quadrupled after the Election Day.
Rising popularity of goods related to the new president have pushed for demands on producing official presidential goods. One online community even suggested a detail marketing plan; revamping the online policy shopping mall "Moon Jae-in 1st Avenue" to "Blue House 1st Avenue" to sell signed election posters and use revenues for pro bono activities. There are also requests to designer-turned-national assemblyman Son Hye-won of the Minjoo Party to reproduce mugs made in early 2016.
President collectibles were commonly used as symbolic goods to bridge the gaps between president and the public in overseas, which can be found in the Teddy Roosevelt bear doll beloved by Americans for over a century. Once an avid bear-hunter himself, the puffy product got its idea from the nickname of the 26th President of the United States, Theodore Roosevelt (1858-1919). "It is welcoming to see president collectibles perceived as an effective medium for the public to familiarize with president and his or her policies," said Prof. Kim Ki-jung of Politics and Diplomacy at Yonsei University. "More goods should be on the market for the sake of setting a sound direction for politics such as higher participation in democracy."
Bae-Jung Kim wanted@donga.com