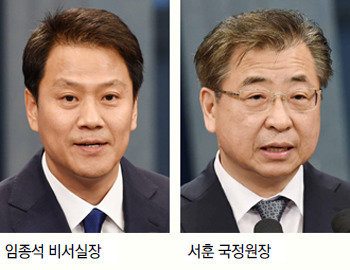 Korea's new President Moon Jae-in has named South Jeolla Province Governor Lee Nak-yon (65) as the next prime minister and Suh Hoon (63), former third deputy director of the National Intelligence Service, as the head of the National Intelligence Service. Former lawmaker Lim Jong-seok (51) has been named as the chief of staff and Ju Young-hoon (61), former chief of the safety team at the presidential security service, has been chosen as Moon's chief of security.
The philosophy that runs through Moon's nominations of his key aides is fairness. Lee came from Yeonggwang, South Jeolla Province and Lim is from Jangheung, South Jeolla Province. Moon, who was born in the Yeongnam region, has named officials from the Honam region to the key posts of his cabinet and the presidential office, showing his strong commitment to filling in positions at his administration from people from different regions in a balance manner. "Balanced appointment will begin with nominations of talents from the Honam region," said Moon while announcing his key appointments during his first briefing at the presidential office. "I have made a promise during the presidential election campaign that a new prime minister should advance fairness, integration and harmony. Governor Lee is competent to lead such efforts under the new administration," Moon told reporters. Moon has promised during his campaign rallies that he would name someone not based in the Yeongnam region as new prime minister. In addition, Moon hopes that veteran, four-term lawmaker Lee will strengthen stability of his cabinet.
The appointment of Lim, who is in his fifties, to the chief of staff who needs to serve as the president's closest aide could be Moon's determination to keep the presidential office fresh. "Lim will lead efforts to change the presidential office young, active, liberal and equal," Moon said.
"Moon has chosen Lee and Lim who simultaneously in order to showcase his commitment to stable cabinet and practical presidential office," said sources from Moon's office. "The case of Kim Ki-choon, former chief of staff for former President Park Geun-hye, was a good lesson to learn for Moon." Unlike Kim who has overwhelmingly controlled and ruled all of the bureaus, Moon wants to help the presidential office focus solely on supporting the president while making a distance from cabinet members. This goes in line with Moon's promise during the campaign to cut corrupt ties in the government.
Moon has eval‎uated Suh, saying, "Suh has shown his conviction to reform the National Intelligence Service more than anyone who worked at the agency. He is the most suitable candidate to help support achieving one of my campaign goals which is the reform of the agency." The new administration plans to fill in other positions soon. "As the chief of staff is appointed, chief secretaries will be named soon" sources at the presidential office said. "Cabinet members will be decided through discussion with the ruling Minjoo Party considering a National Assembly hearing for the prime minister."
Sang-Jun Han alwaysj@donga.com