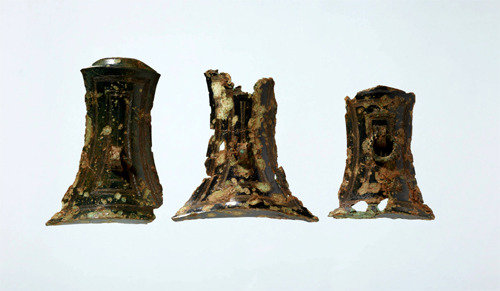 Bronze split bamboo-shaped artifacts, whose presence was first discovered in Korea in Seonje-ri, Gunsan City in North Jeolla Province and reported by the Dong-A Ilbo in March, will be opened to the public for the first time. Bronze split bamboo-shaped artifacts were used in the early Iron Age.
It is the first time that such artifacts buried in an ancient tomb have been excavated after official findings. Previously, bronze split bamboo-shaped artifacts had been identified in Daejeon, Asan City and Yesan County in South Chungcheong, but they were relics treated after resident's reporting.
The Gwangju National Museum recently held a special exhibition called "Historical Pieces Discovered in Soil: 2015-2016 Honam and Jeju Archaeology Accomplishments." It is an exhibition of major relics excavated from discoveries promoted in the past two years in Honam and Jeju.
Part 1 of this exhibition called "Prehistorical Age: Before Records were Made" displays unique relics in the early Iron Age, such as bronze split bamboo-shaped artifacts, mirror-shaped artifacts and fire fountains.
Part 2 called "Historical Age: Created and Used" examines settlement changes centering on the Third District of Hanam in Gwangju and Eupseong in Naju. It also examines ancient civic technologies adopted in tombs, mountain fortresses and repair facilities back then.
Part 3 titled "Historical Age: Afterlife and Praying for Peace" focuses on findings of tombs and temples. It explains the impact of foreign cultures on the Era of the Three States centering on Hoideok tomb in Hwasun County and Gaya ancient tomb in Jangsu County, South Jeolla Province.
Sang-Un Kim sukim@donga.com