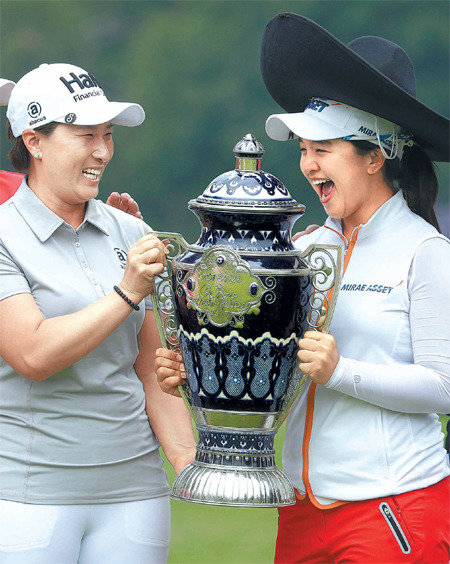 Kim Sei-young (Mirae Asset, 24) has held five KLPGA tour trophies and five LPGA tour trophies until last year. Among them, five were overtime wins. It would not be possible without focus and endurance. People called it as the magic of red pants as Kim has always wore red pants on the last day of game.
She had nerves of steel and picked up her first victory of the 2017 season of the LPGA Tour in the Lorena Ochoa Match Play. Kim Sei-young defeated Ariya Jutanugarn of Thailand at the Mexico Golf Club in Mexico City on Monday and world No. 12 Kim took the title with a 1-up victory over No. 2 Jutanugarn. This face-to-face match play requires extreme concentration and chances of winning the game increase when a player can control a lot of tension as in the case of extra game.
After a strong upside until the first half of 2016, she failed to win games for 11 straight months. She said, "I have gone through a lot of distress as I've lost many games," Kim said. "I thought I experienced the sophomore jinx. By winning this game, I had another opportunity to make a fresh start." The winning prize is 205,000 dollars (230 million won) and she is projected to jump to eighth in the world ranking.
Her debut on the LPGA tour in 2015, Kim failed to pass the cut-off, but she was included in the top list starting from the next game. This time was not that different. She bounced back from the dishonor of failing to pass the cut-off for the 2017 season last week by winning the game in a week. Her greatest strength is her ability to easily forget bad memories and it worked perfectly this time again as the winner and loser is determined in each hole.
Jong-Seok Kim kjs0123@donga.com