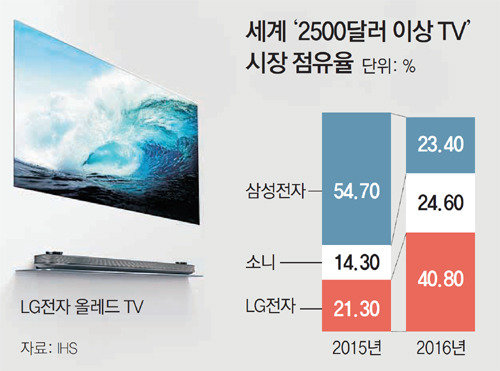 The information Handling Service (HIS), a leading market investigation and analysis company, released a report on Monday and said that about 10 percent of the last year's TV sales of LG came from products priced over 2,500 dollars (2.85 million won) of which share in the entire market is mere 0.3 percent. The number increased by 3 percentage points from 6.5 percent in 2015.
How many products priced over 2,500 dollars are sold is an indicator that can be used to identify which company leads the premium TV market. LG beat Samsung and became No. 1 in this category last year with a share of 40.8 percent, almost double the 2015 record of 21.3 percent.
Although products in this category account for only 0.3 percent of the entire market (with quantity basis), their share increase by 10 folds or 3.2 percent when calculated by the amount. It is possible as customers in this category emphasize values more than price, creating a foundation for flexible price policies.
LG released its first quarter profit on Thursday and the record showed an excellent performance of premium TVs. The operating profit of HE division, which is in charge of TV business, was 8.8 percent, or 382.2 billion won, in the same period. It was the highest first quarter record, despite an increase of panel price, raw material of TV, and off-season effects. Although sales decreased by 7.3 billion won, its operating profit increased by 47 billion won quarter on quarter.
LG OLED TV has positioned itself as the best TV brand in North American market, which is considered as the highest battlefield of global premium TVs. LG OLED TV has achieved the best-ever result this year in performance review of Consumer Reports, American magazine dedicated to product testing. The product has swept the category and ranked the first to seventh this year.
It appears that increasing demands for OLED TV will solidify LG's dominance of the world's premium TV market. The IHS said that OLED TV's market share increased by 80 percent, or 1.8 billion dollars, in 2016 from 1 billion dollars in 2015. The IHS also predicted that LG's production volume will continue to rise to record 2.9 billion dollars this year and 4.3 billion dollars next year.
Dong-Jin Shin shine@donga.com