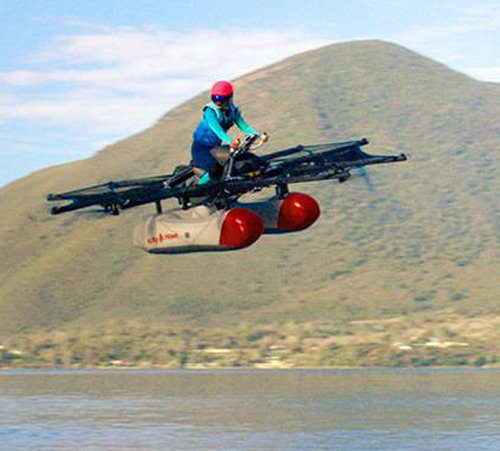 A startup backed by Google's X lab established by its co-founder Larry Page with an aim to secure the future technology unveiled the flying car.
The New York Times reported on Monday (local time) that Silicon Valley startup "Kitty Hawk" recently completed its test flight of a prototype over a lake near San Francisco, California.
The flying car is powered by eight battery-powered propellers with a contraption similar to a joy stick, can take off and land vertically, and move forward or backward while floating in the air. It looks like a small spaceship that Luke Skywalker and Anakin drove in the Star Wars movies.
Aerospace engineer Cameron Robertson drove the flying car. The flight, just 15 feet above the water, circled over the lake about 20 or 30 yards from shore, and after five minutes he made a safe landing.
The Kitty Hawk has yet to announce the price and the timing of the lease of the vehicle. However, the company plans to provide potential customers with an opportunity to take part in test flight scheduled by the end of this year if they pay 100 U.S. dollars. Also, they will have a 2,000-dollar discount on the retail price of a flyer.
Experts observe that competition to dominate the market in advance will accelerate with the development of flying car backed by Google that actively supports and invests in the research of future technologies centering on IT such as drone and AI robot.
According to the New York Times, six companies in Silicon Valley are now developing vehicles similar to the flying car. Also, there's a lot of competition among global companies. French aircraft manufacturer Airbus, which shares the commercial aircraft market with Boeing, announced that it is also working on developing an autonomous vehicle at the 2017 Geneva International Motor Show last month. The government of Dubai, in partnership with Chinese firm Ehang, also planned to begin operating an autonomous flying taxi in July. Uber is planning to develop a flying taxi as well.
However, there is a growing concern over the development of flying cars. One of biggest problems is that its safety has not been proved yet and there are no relating regulations. "Silicon Valley is full of very smart people, but they don't always get the laws of physics. Gravity is a formidable adversary (to the flying car)," Massachusetts Institute of Technology engineering professor John Leonard said. Also, rearrangement of air traffic control system and the noise level of the automotive are issues to be tackled for the upcoming flying car era.
Se-Hyung Lee turtle@donga.com