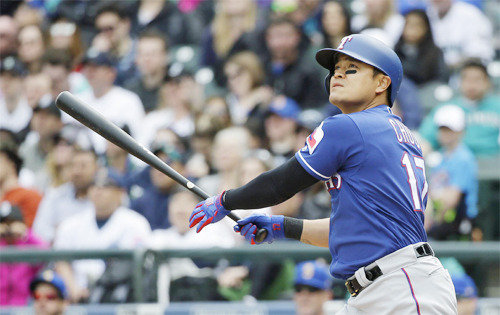 It is true that Korean batters have struggled with Japanese pitchers, who are well-known for their accuracy and speed control as well as notorious fork ball drops. Even so, Korean baseball players have managed to defeat Japan several times in international matches with a dramatic finish because Korea had smart hitters who foresaw what was coming to the batter's box.
On Monday, Choo Shin-soo, the Korean slugger of the Texas Rangers, hit a 3-run homer in the second inning at his first this season, as well as a two-run double in the third against Hisashi Iwakuma, the Japanese starter of the Seattle Mariners, in an away match at Safeco Field in Seattle, Washington. Choo made accurate predictions on both encounters, sending the low-flying balls far to the green with precise strike, but the Rangers were defeated 7-8 despite Choo's relentless 5 RBIs.
Choo earned the reputation as "Iwakuma's nemesis" since he pulled off a crucial home run against the Japanese pitcher at the World Baseball Classic final in 2009. Choo has been dwarfing Iwakuma in his personal encounter with the Japanese, hitting four hits in eight at bat since 2015. Choo's prowess against the Japanese pitcher seemed to falter a bit at one point, but he proved himself almost immune to Iwakuma after all, only allowing two strikeouts in total.
Korea has a number of strong batters against Japanese pitchers. For instance, Samsung's legend Lee Seung-yeop proved himself to be "the Punisher" of Japanese players at each critical juncture. In 2000, the veteran Korean slugger hit a home run from Daisuke Matsuzaka (Softbank) during a tournament game for the Sydney Olympic games before pulling off a two-run double from the same pitcher again to decide the consolation match for the third place. In the semifinals of the 2008 Beijing Olympic games, Lee batted a two-run homer from Hitoki Iwase (Chunichi) sealing the fate of the game.
Jae-Yeong Yoo elegant@donga.com