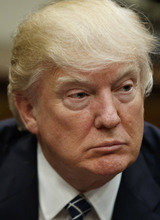 Answering questions on handling nuclear threat from North Korea, U.S. President Donald Trump expressed a will to take unilateral action by saying "If China is not going to solve North Korea, we (the U.S.) will." Asked if he would consider a 'grand bargain' where China pressures North Korea in exchange for pulling out U.S. troops from South Korea, Trump answered as such, adding "that is all I am telling you," during in an interview with the Financial Times on Sunday (local time).
Pundits say that the comments carry the clearest and strongest message that the U.S. president has ever made with regard to North Korea. The remarks reflect Mr. Trump's decisive stance on tackling North Korea's nuclear program, the top priority agenda of the upcoming summit meeting with Chinese President Xi Jinping, which will take place at Trump's Mar-a-Lago resort in Florida on Thursday and Friday. Asked if tackling North Korea without China meant dealing with Pyongyang alone, he said, "I don't have to say any more. Totally."
His remarks are aimed at not only the North but China. Read between the lines, they convey the message that should China refuse to cooperate to pressure North Korea, the U.S. would not exclude the military option of "preemptive strike" while pressuring the North with a long list of bilateral sanctions. Lawmakers with the U.S. House of Representatives Subcommittee on Foreign Affairs are expediting introduction of the Korea Interdiction and Modernization of Sanctions Act to strengthen sanctions against North Korea to the highest extent so far, and on March 31, a North Korean company and 11 individuals of North Korean nationality were slapped with sanctions en masse by the Trump administration. Pundits observe that a series of 'carpet-bombing sanctions' could be imposed on Chinese companies and banks doing business with North Korea through a secondary boycott against China.
Trump has made it clear that he is willing to use trade as leverage to engage China in sanctioning North Korea. The U.S. president recently said that if the unfair trade practices were to continue, he will tell China that America cannot do trade with China anymore. This points to a possibility that if China continues to make such lukewarm responses to the U.S.-led sanctions against North Korea, the U.S. could implement intense trade sanctions against China by labeling it as a currency manipulator and slapping hefty tariffs on its steel products.
On a related note, Reuters reported that the White House considers North Korea's nuclear missiles as the worst existing threat and has finished drawing policies towards North Korea, a task that has been underway since early this year. Deputy White House National Security Adviser K.T. McFarland told the Financial Times that "President Trump is increasingly worried about North Korea as there is a real possibility that North Korea will be able to hit the US with a nuclear-armed missile by the end of the first Trump term."
Seung-Heon Lee ddr@donga.com