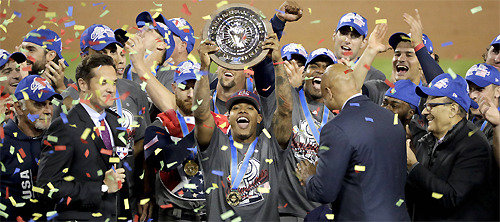 "Sorry Momma."
It was a posting updated by a son decided to join the American team and led the U.S. – a country home to baseball - win its first World Baseball Classic (WBC). The 26-year-old Toronto Blue Jays pitcher Marcus Stroman tweeted last December with all his heart to his Puerto Rican mother, asking that she understand her son who made "a very difficult decision."
Stroman apologized to his mother before the competition, as he changed his mind after deciding to play for the Puerto Rican national team. According to WBC regulations, players can participate in the competition as a citizen of not only his nationality, but also with a citizenship of his parents or grandparents. As a son who was raised by a single mother after her divorce, Stroman tweeted on his Twitter account that "Hopefully have the chance to represent my mom and Puerto Rico in the next World Baseball Classic!" just four years ago in 2013.
Expressing his sincere feelings to his mother, he also posted a photo of his national team days when playing for Duke University. It was his way of explaining that he was an American, though his mother was from Puerto Rico. When it was announced that Stroman will play for the U.S., Puerto Rican fans even criticized his mother for failing to persuade her son.
Fate worked in a strange way, and as a matter of fact, Stroman stopped his mother's nation from making it to the top. On Wednesday, Stroman led his American team win over Puerto Rico by 8-0 with 6 innings, 1 hit, and 1 four balls at the 2017 WBC finals. He became the winning pitcher by boasting his outstanding throws, allowing the first hit to the Puerto Rican Angel Pagan only after the second half of the seventh inning. He silenced the Puerto Ricans who recorded a total of 55 points from seven previous matches. It was his revenge on losing the second round with Puerto Rico when he gave away 4 points during his four and two-thirds innings.
Coach Jim Leyland replaced him as soon as Stroman was hit for the first time at the seventh inning. The early substitution came from Leyland in hopes to draw a standing ovation from the audience and keep Stroman in good condition for the upcoming season, despite that Stroman threw only a total of 73 balls among the permitted 95 throws per championship round. Selected as the Most Valuable Player (MVP) of the competition, Stroman tweeted "Champion" after the match.
Hong-Gu Kang windup@donga.com