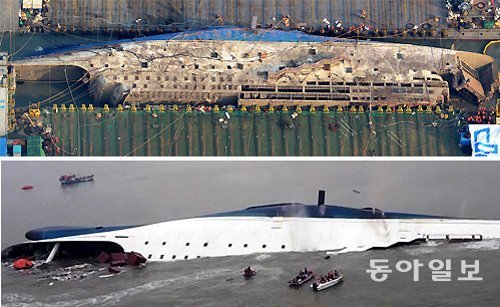 The Sewol ferry was raised from the sea Thursday after an overnight salvage operation, after lying at the sea bottom for nearly three years following its fatal sinking.
Of the two stabilizers attached on the rear of the hull, the one on the starboard of the ferry surfaced at 3:45 a.m. on Thursday, about 18 hours after the salvage work started and seven hours after the main lifting began. One more hour had passed before the hull surfaced.
After being underwater for nearly three years, the Sewol had rusts and scratches all over it, with most of the white paint on the surface peeled. The name "SEWOL" on the ferry was also unintelligible. The bereaved families of the victims who were anxiously watching the lifting moaned at the sight of the scene.
Bringing up the 20,000-ton hulk was not an easy task. The lifting process went smoothly for a while, only to be delayed after the hull hit the pulleys on the salvage barges when the ferry was lifted 24.4 meters above the sea bottom. The hull was lifted while being shaken by the sea current. During the process, the ferry collided with the installations on the barges. The government fixed the hull to readjust its position to ensure it would be safely lifted between the two barges.
Nets were attached on 259 exits, including 250 windows, in order to prevent unrecovered bodies from falling out due to the strong currents or the shaking of the hull. Oil cleaners and coast guard vessels were on standby near the salvage site in case of an accident or oil leakage.
The Ministry of Oceans and Fisheries and a Chinese salvage company planned to lift the ferry to 13 meters above water by later afternoon on Thursday. Their goal is to move the Sewol to a semi-submersible vessel anchored 1.5 kilometers away from the salvage site where the currents are strong by a neap tide that ends on Friday.
As of 5:00 p.m. on Thursday, the Sewol is lifted about 8.5 meters above water.
Sung-Min Park min@donga.com · Hye-Ryung Choi herstory@donga.com